Birding Ecosse Blogspot
Welcome to the Birding Ecosse blog, if it is your first visit then thank you very much for dropping in, if you were a regular to my old blog then thank you for updating your bookmarks!
This blog will follow all my trips and tours, so if you have been out with me recently the chances are very high you will make an appearance! Most of the pictures on the blog are my own, however if I do use a third parties  pictures I will have obtained their permission and will give them full credit.
It is designed to be a light hearted read to show how and where Birding Ecosse operates, so if you are thinking of booking a tour check out the Blog and then read through the Testimonials and you should get a flavour of what to expect! Great Birds, Great Scenery with Coffee and biscuits thrown in!  Please note: All  birds will have been viewed in a safe and environmentally accepted way, that is to say by using public access at all times or by the use of hides specifically erected for the observation of this species and by keeping at a  safe distance and viewing through telescopes. Remember you can keep in touch via Facebook at https://www.facebook.com/dslaterbirdingecosse or twitter @birdingecosse
Monday 16 November 2015
Browsing through some of my pictures from this brilliant season for Birding Ecosse, I came across these pictures taken at the RSPB reserve at Troup Head.  It is amazing to think that just two birds arrived on these cliffs in the 1970′s and today we have the spectacle of 7500 birds.
Always a great day out, I will be organising many trips to this fantastic reserve, keep your eyes peeled for my summer breaks being published in the very near future and join me for a fantastic day of birds, scenery, smells and photo ops!
Friday 13 November 2015
Nice to see a few other birders have been picking up the Rough Legged Buzzard I found on Tuesday, They are also commenting on how pale it is and the high possibility it is the same bird as last year…. hope so as that was a long staying Birdy and gave a good few Birding Ecosse victims the chance to catch up with it.
My record shots from last year, hopefully if it lingers in the area I will get better images than these!
Tuesday 10 November 2015
Had a nice morning out with John, the owner of the Grant Arms Hotel and head honcho of the BWWC, and it was off to Laggan to see what was about.
So what was about?  Torrential rain and gales!!  It was my second trip to this location with John, and it was exactly the same……… I have been with other victims in beautiful weather, blue skies, warm sun, so lets us look at the common factor for the poor weather…………
All joking apart it was a great trip with a few birds seen despite the weather, Goldeneye, Mallard, Bullfinch (male). Kestrel to name a few.
A heard of 42 Red Deer Stags was nice to see through the heavy rain, then as quickly as they appeared they melted away into the murk.
Every cloud has a silver lining, and today it was the rain the had turned the River Spey in not quite a raging torrent, but a good flow nonetheless.
However the highlight of the day was on my return over Dava Moor when a Rough Legged Buzzard transited over the road and headed in the direction of Lochindorb. A very pale individual similar to last years long staying bird.  Same bird perhaps?
Monday 09 November 2015
Nice weekend with a mixture of birdin, long drives and some aurora watching!
These Red Grouse were seen on a drive across the Lecht heading towards Braemar, I know they are not the rarest of birds but it was nice to see them perched up on the dry stane dyke.  It was a bit of a raptor drive with Buzzard, Kestrel and Sparrowhawk all being seen. We also seem to be having a fabulous run of the Northern Lights at the moment with sightings nearly every and any clear night, just proving that the Highlands, Moray and Nairn are a great places to visit for all sorts of wildlife and nature!
Welcome to the Birding Ecosse November Newsletter.

 
And so that's October 2015 over and done with, Autumn has well and truly started with some beautiful colours and smells, the first snow fell on Cairngorm and a huge influx of Winter visitors arrived in the local area. The month started with repeat victim Irene pithing up at the beautiful Grant Arms hotel for a Birding Ecosse Mid Week Special, and straight away the banter and laughs started.
Day one was spent on the beautiful Moray Firth and at the first port of call we picked up some great views of recently arrived Pink Footed Geese and Pintails, the latter being  relatively uncommon in Moray, but not as scarce as the two Magpies that were chattering in the trees behind! Further along the coast we bumped into a few more newly arrived migrants, 4 Brent Geese were a lifer for Irene and showed well feeding on the banks of the river Lossie, waddling past a nice Iceland Gull would have been a nice picture….. if I had got it that is! Whooper Swans and Barnacle Geese were both picked up in nearby fields

Whooper Swans
Barnacle Geese
Other species that put in an appearance throughout the day: Kittiwake, Long Tailed Duck, Gannet, Kestrel Buzzard, Sparrowhawk to name a few.  Final stop of the day added a bonus bird in the shape of Red Grouse.

Day two and it was way up North for the two of us.  The weather had improved significantly since yesterday and our spirits were high.
More Pink Footed Geese were picked up today, early on, but these had a few Grey Lag interspersed with them, it has been a goosetastic few days! Black Guillemot was a nice find and just strengthened my idea that they are my favourite auk, especially in their current winter plumage… a real wee belter.  Long tailed Duck and Red Throated Divers positively Glowed in the autumn sun.
It was nice to see the return of the Scaups, and if early season numbers are anything to go by then they look to have had a very successful breeding season, as always, and a good tip for you all, usually where you get Scaup you will find Slavonian Grebe, and not to disappoint one duly surfaced with the raft of Ducks.

A cracking couple of days birding with Irene, as usual, netting a very respectable 69 species over the two days.
Mid month saw me basking in some glorious winter sun, with a trip to Spain.  Although not strictly a birding holiday we did manage to pick up Monk Parakeet, Sardinian Warbler, Peach Faced Lovebird, Crag Martin and biggest surprise of all was a constant to and forth of Crossbills! I have a plan forming for guiding a tour to Southern Spain in 2016, It is in it's infancy but if you would be interested then please drop me a quick, no obligation e-mail and I can judge if it would be a goer or not. As the month drew to an end, more serial victims arrived for another mid week special, Anthony and Fiona, (Paisley royalty) and it was great to catch up with them again.

Fiona and Anthony
Once again it was up North over the Kessock Bridge and onto the Black Isle and Beyond.  It was soon apparent that there was a massive movement of Gannets as over 100 were feeding just offshore, two Black Guillemots also I the area played a game of hide and seek behind the waves for a while.
A recent heath fire at a local migration hotspot did not actually look as bad as I had feared in recent reports, and thankfully the local Stonechats were still Flitting around, however it was a Short eared Owl flying in off the Moray Firth  that stole the show, as wave after wave of Gannets passed the point.  Back at the car park we were pleasantly surprised  when a male Blackcap put in an appearance. Arriving at the fantastic Udale Bay hide the tide was just beginning to drop and many many birds were feeding on the newly exposed mud, star bird being a Ruff, just as we were finishing our coffee and teas the Pink Footed Geese began to "wiffle" in. A lovely way to end the day and start the journey back to the hotel.
Pink Footed Geese
 

Day 2 started off in a local wood and in short order we were soon watching our target bird, Crossbills. At  first two females were picked up in the scope, but these were soon followed by a male, then another female until in total approximately 15 birds were observed feeding and calling high in the tree tops, a great start.
Unfortunately just around this time the rain started, and was to stay with us on and off for the rest of the day, but it did not deter from a great day birding. Over the moors and once again star birds were the Red grouse, looking absolutely stunning,
And that was October in a nutshell, great birds, great company and some jaw dropping Autumn scenery, fancy being part of the Birding Ecosse experience?  Then see the dates remaining in 2015 published below, or search our web site at birdingecosse.co.uk for details of our 2016 breaks.
So folks until next month "Good Birding" Dave
October 2015 Update
So yet another hectic spell! Between more visitors to Casa Slater/Martin, a fantastic one to one tour and a quick jaunt to some winter sun the time seems to be running away with me! Long term victim Irene pitched up on October 7 for the Birding Ecosse Migration Special, with the first 15 seconds I knew we were in for a highly entertaining and birdy couple of days! Day one was spent on the Moray Coast, the weather was not the best with rain showers and low dark cloud.  The first Pink Footed Geese of the season were in presence as were some Pintails (male and females) and a nice roost of Golden Plovers started the day off well. Lossiemouth provided a lifer for Irene in the shape of 4 Brent Geese, however there was no sign of the Bonapartes Gull recently seen on the estuary although a 2nd winter Iceland Gull and an Adult Kittiwake were nice additions to the list, Supporting cast of Goosander, Turnstone, Redshanks, Teal, Mute Swan and Wigeon the days total was growing nicely. A nice flock of Barnacle Geese outside Speybay was a surprise find, and was nearly missed as we watched a Buzzard on a nearby telegraph pole!
Also nearby was the first flock of Whooper Swans, another sign that winter is on it's way!
Last  stop of the day was a very wet and soggy Lochindorb where the usual Red Grouse put on a nice display.
Day 2 started of sunny. mild and calm
and it was up North we were headed.
Portmahommak turned up a nice winter plumaged Black Guillemot some Long Tailed Duck and a lone Red Throated Diver. The car park feeders at Tarbat Ness provided us with Tree Sparrow, House Sparrow, Chaffinch, Yellowhammer and Coal Tit.  And a beautiful male and female stonechat at the point looked stunning in the sunlight. Last port of call was the haunting Black Isle.
A fantastic gaggle of Pink-footed geese loafed around on the mud flats, whilst a smaller group of Grey lag Geese grazed the grass on the far side of the hide.  Along at Jemimaville the first decent numbers of Scaup were just offshore and three Slavonian grebes dipped and dived within the flock. A great way to end the weekend.  Great company, loads of laughs, great conversations putting the world to rights and a total of 69 Species over the two days.
Saturday 05 – Monday 07 September 2015
Saturday 05 September 2015
I always get excited when I'm heading on a pelagic trip so the signs looked good when I picked Jackie up from Forres and my Canadian victims for the weekend Gerald and Jeanette from British Columbia  who were staying at the beautiful Grant Arms Hotel, Grantown on Spey (Home of the BWWC)
Driving up through the stunning late Summer/early autumn Scottish highland I was aware of a gentle breeze blowing the tree tops and rustling the heather, hopefully not a sign of a rocky crossing.
Soon we were on board the MV Seaforth and after another brief explore I decided that once again the best place to locate the group was the area just outside the saloon doors, the lower viewing deck is completely enclosed by a bulk head to the rear and the ships funnels left and right, leaving a long view over the open car deck to the rear of the ship and the upper deck has about 8ft of viewing rail either side which acts as the perfect wind tunnel, neither are ideal and I found myself yearning for the good old MV Isle of Lewis days!
Anyway soon we set sail and the first Gannets and Bonxies hove into view accompanied by the first of many pods of Common Dolphin.
As is normal the first part of the journey is fairly quiet with the usual suspects being seen, along with the Gannets and Great Skuas  Herring, Common Gulls and Great Black Backed gulls drifted past the ship, however after about 45 minutes more and more things started to appear.
By this time the  sea swell was quiet large and made getting people onto birds a tad difficult, however the first Arctic Skuas were seen homing in on a poor kittiwake, their favoured species at this time of year, and Ariel dog fight that ensued passed a happy few minutes before the kitti regurgitated its last meal and made off quickly leaving the Arctic Skua to now eat said regurgitated meal!
Jackie then shouted for a dark bird lifting off the water in front of the Ship, our first Sooty Shearwater of the day, brilliant!
In the distance a small fluttering dark shape darted and dipped between the waves, a Storm petrel, however the distance involved and the continual rocking of the ship meant the others could not pick this wee mite up, however a very close flyby of an immature gannet was a small compensation.
All too soon we were heading into Stornoway harbour, a very young Common Tern circled and plunged for fish, whilst some bona fide Hooded Crows picked for food in amongst the Gull roost on the quayside.
And so onto the return journey, now, I had decided to give to forward viewing seating area another chance and soon we were settled into prime seats and looking forward to the return crossing in some sort of style.  However this was short lived and I cannot stress to other birders just how disappointing the forward view is.  The windows are sloped forward, so all the spray that had come up had dried on the glass leaving an opaque film, the many strengthening pillars block almost every angle you need to be looking at, and the glass distorts the vision really badly, result?  Both Jeanette and myself felt slightly squiffy so it was all up and out, back onto the viewing area!  A cup of hot chocolate and Tunnocks Tea cake later and I was back to full fitness and raring to go!
More Arctic Skua and Bonxie patrolled the area and once again about an hour out we started to pick up good numbers of Guillemot and Razorbills, more Dolphins, some Porpoise and a very very brief appearance of a Minke whale. Another three Sooty Shearwaters and a small "fluttering" of around 15 Storm Petrels (I just  made up the group term for Stormies – a "fluttering" seems fairly apt!) and not very often you see more Sooties then Manx Shearwaters.
So a long but productive day and as I dropped off some tired but  happy victims we were all looking forward to tomorrow!
Sunday 06 September 2015
It was a long lie today for Jackie, Jeanette and Gerald, so much so that Jackie arrived before I did at the appointed pick up point.
First port of call was a small side road leading North out of Grantown on Spey, soon we had added some great views of Goldcrest, Great, Blue and Coal Tit to our weekend list, a young Redpoll and a charm of around 20 Goldfinches were also nice additions. The five Jays that followed soon after were more of a surprise.
The local Diver Loch was more reminiscent of the Ferry Crossing yesterday, with white horses all over the surface, no chance of Black Throated Divers here then! The Red Grouse did put on a nice show though.
A quick stop off at Loch Garten RSPB added Siskin and Great Spotted Woodpecker, it was the last day of the season and the reserve had a definite wind down feel, however I think the reserve is actually better in the winter so I was happy!
Next up was Cairngorm the easy way, and in keeping with the rest of the weekend we had a minor gripe in the fact the left hand side of the viewing platform is cordoned off for repairs, so 50% of our Ptarmigan viewing area was not available, grrrrrrrrr!.
Just as we were preparing to leave Jeanette asked what the "small brown bird" feeding below the viewing terrace was, expecting a Meadow pipit I leaned over the wall only to be greeted with a Snow Bunting!!
Soon we were heading towards raptor valley, our last stop of the day. The wind was still blowing but it was clear and sunny.  A Grey Wagtail showed well at the Dipper Bridge, which is more than can be said for the Dippers!  Swallows and Sand Martin skimmed low over the road bridge at the river.
At the top of the valley it was fairly quiet, the usual Tourist Eagles (Common Buzzards) were in presence their mewing cries carrying well on the breeze, and a lone Red Kite soared high on a thermal.
At the top car park a large flock of House Martins and Swallows hawked around the old kennel block, how long before these birds leave for their long and difficult south to Africa begins?
Another great day ended, and tomorrow morning will be spent on the coast once again looking for some autumn migrants.
Monday 07 September 2015
"Oh what a beautiful morning, Oh what a beautiful dayyyyyyyyyyy"  as the song goes! It really was a stunning morning as we headed off towards Lossiemouth.
A brief stop off at Hopeman pig farm, yes folks it is that time of year again where I find myself frequenting the piggeries of Moray and Nairn!  We were not disappointed 10 Ruff and 1 Knot paddled through the slimy sludge they called breakfast!
The river Lossie looked at it's best, no dog walkers were present!!  The advance party for the winter Wigeons looked like they had just arrived and small flocks of birds buzzed around looking quite nervous, some Teal looked on uninterested.  Redshanks, Oystercatchers and a Grey heron gave superb views in the early morning sunlight.
Sitting at Michael Morris's  feeding station in the woods I would like to say what a fantastic job this man does in looking after this hidden gem of birding.  He walks with his dog twice a day to fill the feeders, and allows any one who has an interest to use his spot, a true Gentleman of the birding world.  I would also urge anyone using the area to perhaps take a packet of seed or peanuts to the site and leave it in the black bin provided, just to help Michael out, it cannot be cheap filling the many hungry beaks that now abound here.
Gerald, Jeanette, Jackie and myself sat transfixed as birds buzzed back and forth, the noise of their wings accentuated by the quietness that surrounds the area, soon however our target bird appeared, a Crested Tit.  then ensued nearly twenty minutes of watching Gerald sitting bolt upright, camera trained on the feeder and waiting, and waiting and waiting for the Crestie to reappear, which thankfully it did and the required holiday snap was captured!
Heading back to the car a Wheatear darted across the river to the dunes side, and whilst speaking to another excellent local birder and all round nice bloke, Charlie, all the gulls took flight and Charlie announced, "looks like an Osprey in the area" and lo, an Osprey appeared and proceeded to fish!  An absolutely brilliant way to end the weekend!
Red kites found shot and poisoned in Highlands
When will this madness stop and these ill informed ignorant human beings be brought to task, the pathetic fines and suspended sentences have to stop.  The older I get the less tolerant I am getting for wanton killing and even more so against killing for fun. The recent increase of people on social media with dead animals they have killed is just nauseating. These people are killing, taking a life form for fun!! It is about time politicians started putting this up their agenda.  Don't even get me started on Malta!!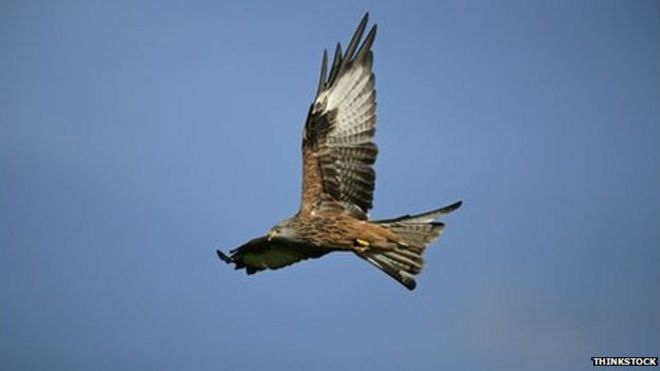 Two red kites have been added to a toll of 16 birds of prey recorded as having been illegally killed in the Highlands last year.
The two raptors were found near Beauly and Cawdor following a poisoning incident that killed 12 kites and four buzzards near Conon Bridge.
Details about the two kites have been released following the conclusion of police inquiries into their deaths.
The one found near Beauly was shot and the other was poisoned.
No-one has been charged in connection with the incidents.
Police Scotland said investigating wildlife crime was challenging, but added that its detection rate of offences was increasing.
Satellite tagged
The female bird found near Cawdor was part of a breeding pair at Cawdor Castle that in 2014 became Nairnshire's first breeding pair of red kites in 100 years.
Both dead kites had been satellite tagged by conservationists.
Duncan Orr-Ewing, of RSPB Scotland, said: "Since red kite reintroductions began in Scotland in 1989, over 100 birds have been confirmed as illegally killed, with a significant majority of the victims found poisoned.
"The real figure will be much higher as the finding of these satellite tagged birds demonstrates."
The Scottish Gamekeepers Association said it had been unaware of the two additional incidents.
Chairman Alex Hogg said: "This is the first we have heard of any such incidents and we do not know the possible causes which makes it difficult to comment further.
"The Scottish Gamekeepers Association has a clear and consistent line and does not condone wildlife crime. The use of illegal poison has no place in modern Scotland."
'Vast areas'
A spokesman for Scottish Land & Estates said: "We support any appeal for information about the suspicious deaths of birds of prey and the poisoning of any bird is cause for deep concern.
"We will assist Police Scotland as the leading investigative body to offer any assistance."
A police spokesman said: "Investigating wildlife crime is challenging because of its nature, and the vast areas covered.
"Police Scotland works closely with partners including the RSPB to tackle wildlife crime, and brings to bear the full range of investigative techniques at its disposal.
"Our detection rate is increasing. Our aim is to reduce wildlife crime and earlier this year we launched a campaign raising awareness."
A spokesman for Cawdor Estate said: "The Cawdor Estate was not aware of an alleged poisoning of a red kite, found in woodland in the area close to Cawdor, until we saw an RSPB press release yesterday.
"As we received no contact from Police Scotland nor the RSPB at the time of the discovery of the bird in 2014 nor since, we have no reason to believe this was found on Cawdor Estate land.
"Any illegal persecution of protected species such as the red kite is absolutely abhorrent and we strongly condemn anyone found guilty of such an act."
Ullapool to Stornoway Pelagic trip
Join Birding Ecosse for a fantastic full day of Birding as we cross over the Minch from Ullapool to Stornoway on the Outer Hebrides.
Your hide for the day the stunning new MV Loch Seaforth
Using the Caledonian MacBrayne ferry as a floating viewing platform, sightings on our trip last week included Manx and Sooty Shearwater, Puffin, Black and Common Guillemot, Razorbill, Storm and Leach's Petrel, Arctic and Great Skuas plus a Pod of 50 Common Dolphins, 3 Minke Whales and harbour Porpoises all around the ferry! (Please note this is a pelagic trip, we only dock at Stornoway for 30 minutes)
Pick up at 0730 and drop off at approximately 1900. (Remember to bring a packed lunch!)
Cost (including ferry crossing): only £115 per person. To obtain more information or to book (booking essential) please call: David Slater on 01309 676720 or 07955336955
www.birdingecosse.co.uk
Corncrake 2016 – With Birding Ecosse
A Date with the Corncrakes!
***Double or twin room remaining, suitable for a couple or
those

willing to share.***
Plans are coming along well with "Corncrake 2016″ and I am getting excited already! A full itinerary and plan will be published in due course however to whet your appetite here is a rough idea:
Date: Travel and bird on the way to Skye Friday 03 June 2016  (weather permitting this will include a drive over the Beallach na Ba for Ptarmigan) Return and birding Monday 06 June 2016 (These dates are confirmed)Accommodation: At Lochbay Bed and Breakfast (and what an outstanding breakfast it is!) Isle of Skye. (Confirmed)Lunches will be soup and sandwich at local establishments, included in price of trip.
Evening meals, will once again be in local eateries, examples being The Stein Inn, The Old School restaurant,  and the Edinbane Inn. The evening meal is not included in the price of the tour. Rough plan of events (all included in tour price).
Saturday, up early and out for Corncrakes, later in day a wildlife boat trip from Elgol. Corncrake watch after evening meal.
Sunday early rise again Corncrake bagging and general birding on Skye. Calmac Ferry from Uig to Lochmaddy in afternoon to watch for Seabirds and cetaceans. (non landing at Lochmaddy)A guide price at the moment will around £485 to £525 per person, as with all Birding Ecosse trips
spaces will be limited to three people
so book early!
Bookings are being taken now with a £50 per person deposit to secure a place.
Monday 17  August 2015
Dad and Daughter day birding
so we headed off to a couple or areas in Scotland that believe it or not I have never been to! After a full cooked breakfast at Brodie Country Fayre (very nice complete with haggis) it was off to the hills! First stop off was at Glen Affric, a Glen I have heard and read about but never visited, and what a pretty Glen. Swallows and House Martins hawked around the farm buildings a Juv Bullfinch flitted down to the road giving Cheryl a life bird and a Sparrowhwk posed nicely on a fence post, albeit with its back towards us. The next Glen visited was a stunner though and one I much preferred to Affric, the scenery, and mountains were stunning!
Highlight for the trip (apart from the fact I was birding with my Daughter that is) was a pair of Summering Whooper Swans! Excuse the quality of the pics but they were at distance.  No sign of any chicks though sadly!
Unfortunately I have a bit of sad news, the Black Throated Diver chick that swallowed the fish hook then got snarled up in the reeds has sadly died, another rare bird dead because of unthinking people.  It really irritates me when people seemingly "love the outdoors" and "live outdoors" but fail to respect the outdoors, the people who happily use it then leave it in tatters when they have finished, oblivious to the damage they leave behind such as litter, burnt out fires etc or indeed the total disturbance they have caused to the wildlife in that area i.e. canoeists, windsurfers, dog walkers, wildlife photographers, disturbing nesting birds nearby and destroying habitats in their pursuits.  But the bits that grips me most is when you point out the error of their ways they either get aggressive or look at you as if you had three  heads!! Finally a wee bit of market research, Im going to run a couple of classified adverts in the RSPB magazine "Natures Home" below is some wording that I am thinking of using, which one do you like best and why? Any tweaks you can think of to make thm "stand out" (they have to be a maximum of 160 characters including spaces) You can leave your answer via this link Contact Me  Many thanks for your help
  Dave Slater, Private Birding Guide in Speyside, Moray & Beyond Expert, knowledgeable and irritatingly cheerful. Max 3 Guests. Day rate £110pp birdingecoss.co.uk   Dave Slater, Private Birding Guide in Speyside, Moray and Beyond. Great Birds, Great Scenery. Max 3 Guests. Day rate £110pp birdingecosse.co.uk   Visiting the Sottish Highlands?  Private Bird Guide Dave Slater. Expert, knowledgeable and perpetually cheerful. Max 3 Guests. Day rate £110pp birdingecosse.co.uk
Saturday 15 August 2015
The day dawned cold grey and wet, and basically stayed that way throughout the day!  The wet weather programme was initiated. Picking Frank and Frank up at their accommodation we were soon sitting dry in the Longman Bird hide on the edge of Inverness.  The usual suspect for this area where evident with Oystercatcher, Great black backed and Herring Gulls, with a handful of Goosander and a single Gray heron all being seen.  An Otter was a nice bonus.
Heading over some grouse moors a hunting Merlin was star bird as it briefly flew over the road and tried to snatch a Meadow Pipit, the usual Red Legged Partridge put on a show and in the surrounding trees, Willow warbler and Spotted Flycatcher fed busily on any passing bugs and a very young Stonchat posed nicely on a fence post. Out over the moors and to the local Black Throated Diver spot, the two adults were still on the Loch, albeit at quite a distance. An immature Osprey was calling from the lochside Pines, but wasn't seen until later when we had a clear view from the south end of the Loch and saw the bird briefly fly before landing on another pine tree at the far side. A nice little group of passerines gave Frank and immediate boost to his UK and life list, Coal tit, Blackbird, Goldcrest, Treecreeper all nice to see close up.  As mentioned before the Red Grouse seem very scarce this year with less than ten birds being seen in total. Next stop was raptor valley, unfortunately no Eagles were to grace our presence but Sparrowhawk, Kestrel, Peregrine and many Buzzards ensured there was never a dull moment, a Dipper at "Dipper Bridge" seemed very lethargic and fed up with the continual rain!
 The final leg of the journey took us up over a high road back towards Inverness, and the rain eased just slightly.  A nice mixed flock of Sisking, Chaffinch and Coal Tits were soon joined by a thcuup thcuup tchuuuping flock of Crossbills, an excellent way to end the day!
Friday 14 August 2015
Today marked the first trip on the Birding Ecosse Autumn/Winter programme, and what a way to start with a trip on the beautiful new          MV Loch Seaforth from Ullapool to Stornoway. It took a while to find the best area to stand and watch, but soon we were standing in a sheltered and more importantly covered spot, this could be a really nice boat to seawatch from! The sea was flat calm and we soon picked up our first (of many) Gannets and as we passed a small lobster boat the first Bonxie put in an appearance. Razorbill and Guillemots seemed very abundant, and what was noticeable that they seemed to be paired up, one adult and one chick.  The Puffins were quite different with only three immature birds being seen all day,  The sea was so calm and the new ship so quiet you could actually hear the young Guillemots squealing to their parents for food, something  I have never hard before. I beautiful Sooty Shearwater took of and flew in front of the boat, giving Frank a great opportunity to see its all dark plumage, a few rafts of Adult and Immature Kittiwakes began to appear.  It was then out first Arctic Skua appeared (dark phase) also around this time small black birds with white rumps started to show, fluttering across the smooth water surface, Storm Petrels! And then a larger Petrel bullied into the group, a Leach's Petrel! Whilst all this was going on a dorsal fin broke the surface, then another and another, soon a pod of Common Dolphin were beside the ship, smaller Porpoise were also seen throughout the day. Nearing Stornoway the first Manx Shearwater glided past, a bit distant but soon the birds came closer and gave some nice views, All in all a great day, with a few year birds added to the Birding Ecosse list, but the icing on the cake was seeing the original Birding Ecosse mobile all nice  and shiney and looking in pristine condition!
Tuesday 11 August 2015
As I feared, not good news on the Black Throated Diver, the following is the report from the BBC, all credits and pictures from the BBC.
A rare bird has been rescued after swallowing a fish hook and line on a Highland loch.
The black-throated diver was spotted in difficulty at Lochindorb, near Grantown on Spey, on Monday 3 August. Scottish SPCA senior inspectors Andy Brown and Dougie Campbell managed to reach the tangled bird. After it was cut free, it was taken to the animal welfare charity's National Wildlife Rescue Centre in Fishcross, near Alloa, for treatment. Black-throated divers are an "amber" category species, the second highest class of conservation concer,n according to the RSPB.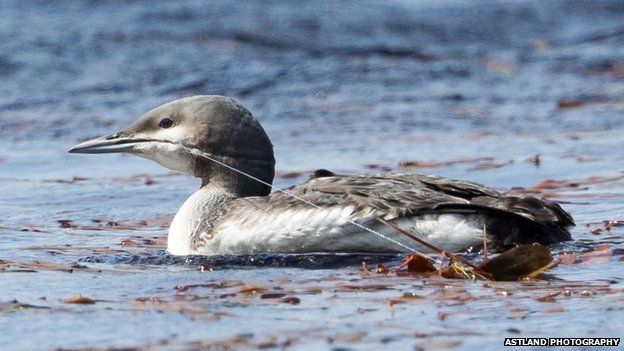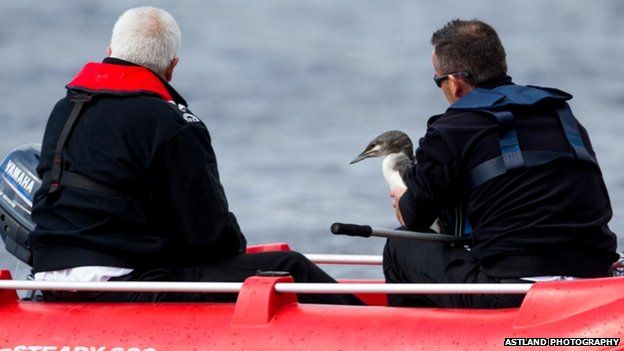 Mr Brown said: "The fishing line had snagged on weeds, meaning the bird was unable to move very far. "Our vet was able to remove the hook but unfortunately there is a lot of dead tissue and the diver is not out of the woods yet. "It is now on a course of antibiotics and we are hoping this treatment will be successful." He added: "However, the bird isn't currently waterproof due to having the feathers around its neck removed so if it survives it will have to remain in our care until they have grown back." Lochindorb is well-known for its ruined stronghold of a notorious 14th Century lord who was known as the Wolf of Badenoch From Lochindorb Castle in the Highlands, Alexander Stewart and his forces made a raid across Moray and destroyed Elgin Cathedral in 1390. A scheduled ancient monument, the fortification was built on a small island on a loch.
 Saturday 08 August 2015
I knew it was going to be when Maribeths first comment of the mid week special was to Nick "Told you he would be old" and the next two days took a nosedive after that……………….. only joking it was a cracking couple of days. Day 1 started fairly bleakly as I picked Nick and Maribeth up from the cosy and friendly Garth Hotel in Grantown on Spey, but soon we were on the banks of a pretty Scottish Loch watching some Black Throated Divers.  Now this in itself is great news, however the absence of the chick was worrying.  I stopped to chat to a nearby photographer and it seems the chick had become entangled in some fishing line and had to be rescued by the SSPCA.  Hopefully they had taken it into care if it had been injured and again hopefully it will make a full recovery.  If I find out any more details I will keep you all informed. Driving across the moors, and with the (in)glorious mass murder day of 12 August fast approaching I was surprised at the small numbers of Red Grouse to be seen, bet they still blast those that are there out of the Sky though, I noticed in the news this week that M&S are not stocking any Grouse in their shops this year, good news indeed. A Redpoll near the wooded copse beside the Lodge was the first time I have seen one in this location, and a nice bird to add to the day list, and the added spectacle of House Martins, Swallows and Sand Martins hawking over the trees made to a very busy scene.
Day two dawned to monsoon like rain, so plan "B" was implemented and the first ever "Happy Haggis Tour" took place, with the inaugural half day tour being a visit to the beautiful Glenfiddich Distillery, keep your eyes peeled for the new tab appearing on the web page introducing this exciting new venture from the stables of Birding Ecosse! Afternoon was spent in the company of 2880 Gannets (I got to this number by counting their feet and dividing by two
 or actually asking the warden!) it is amazing to think the colony started with four pairs in 1988. A remarkable success story.
The day rounded off with a short stop off at the beautiful Bowfiddle Rock where the Black Guillemots put on a great show, the Shags sat perfectly and the kittiwakes huddled together as a cosy family group, all in all a great day.
Tuesday 04 August 2015
It has been a topsy turvy spell of weather up here in the far North, some beautiful hot sunny spells followed by cold, windy and frankly driech weather, the affect this has had is for it to be a very prolonged breeding season, this fact was brought to life when a fellow worker showed my a picture of a sadly dead House Martin chick, this bird was still naked of feathers with only a few pin feather showing on its wings, it probably was a second brood bird, but if the season had not been interrupted by the cool weather this wee bird may have fledged.
Anyway onto cheerier things, I recently had a trip out with Puffin Cruises from Macduff, and once again a fantastic trip was had.  Close up views of Guillemot, Razorbills and Puffins with the thousands of Gannets and Kittiwakes adding to the "seabird city" feel. Once again on the return trip a pod of friendly Bottle Nosed Dolphins gave a fine performance.
The much sought after and hard to see Crested Tit in Summertime put in a great show at a local feeding station, add to this "Chip and Pin" the two local Red Squirrels it is a magical place to sit and just watch nature.
As summertime slows down my thoughts turn to Autumn, indeed some of the Autumn migrants have already started to filter through, my favourite time of year is about to start, the pelagic trips to Stornoway start next week ready for Petrel and Skuas, and the local estuaries take on a whole new demeanour, but in truth I cannot wait for the winter Sea Duck to arrive back……… watch this space!
Wednesday 15 July 2015
Well it has taken since 10 April but at long last we are beginning to see some wildlife arriving at our new home and garden. The most common species to date is Goldfinch, with regularly six adults present, and today the brought the kids, when 5 juveniles turned up to the feeders,
Also seen recently (in or from house): Pied Wagtails, House Sparrows, Jackdaw, Rook, Herring Gull, Woodpigeon, Starling, Swallow, House Martins, Swift. But today was a red letter day when we got our first Butterflies on a flowering Buddlia, two Tortoiseshell.
Good morning to you all, and I am so glad to be back in harness. Life has been whizzing by at a hectic pace, but has produced some magical birds, a lot of great people, a new eyrie for Birding Ecosse and a couple of days birding with a TV personality!
With all that has been going on I have fallen behind majorly with all my administration duties and has now got to the stage where I will have to draw a line and start anew! So please excuse any omissions to names or species in the following catch-up! The spring started well, with a nice period of warm weather with plenty of sunshine, however it wasnt long before the weather changed, it went cold and cloudy, and basically it has stayed the same ever since, this has had the effect of making it a very, very long and drawn out breeding season, and as of last week some birds were still on very young chicks.  This was particularly evident on Handa Island when both the Arctic and Great Skuas were observed feeding some tiny balls of feathers!
Pale phase Arctic Skua
Bonxie (Great Skua)
So far this year I have managed to visit the absolutely stunning Island of Handa three times, with a total of 8 victims, sorry clients, and on all three occasions the weather gods have smiled upon us with glorious sunshine and light breezes and gave close views of Bonxie and Arctic Skua.
More of a surprise was the Red Throated Divers in the small lochan at the top of the island, especially when they started their display ritual.  Amazing birds to watch.
Red Throated Divers.The Gannets at Troup Head however seemed unaffected by the cold weather and breeding was in full swing and proved a popular spectacle to all the groups I took to this "hidden gem" of a reserve.
I was kindly asked by the BWWC at the Grant Arms Hotel if I could help out with their ever popular "Celebrity themed week" so for a couple of days I was in the company of springwatch presenter, author, radio host and all round great guy and top birder David Lindo and twelve highly entertaining people. A cracking couple of days was had, and the icing on the cake for me, I was treated to a stay in the hotel, it really is an amazing set up, with beautiful rooms, fantastic food, great service and top notch speakers all thrown in.
The David Lindo rabble, sorry, group
And so that brings us to the end of this very abbreviated catch up blog, I have just returned from a couple of days on the Isle of Skye, so keep your eyes peeled for my  Skye 2016 offers "A weekend in the company of the Corncrake" (provisional dates  of 13 to 16 May or 03 to 06  June 2016)Thank you once again for all the support, encouragement, kind comments and trip advisor reviews (up to 21 reviews now!) you have given to myself and Birding Ecosse, it is nice to know I may be doing some things right, however I have a sneaking suspicion it may be to gain an extra Tunnocks Teacake!
2015 Mid weeks specials, remaining places.
Tue 04 Aug – Fri 07 Aug 2015 –

1 Space

Tue 06 Oct – Fri 09 Oct – 3 Spaces Tue 27 Oct – Fri 30 Oct – 3 Spaces Tue 17 Nov – Fri 20 Nov 2015 – 3 Spaces Tue 08 Dec – Fri 11 Dec 2015 –

2 Spaces

2015 Weekend offers, remaining places
Thu 13 Aug – Mon 17 Aug 2015 –

1 Space

Thu 03 Sept – Mon 07 Sep 2015 –

1 Space

Fri 06 Nov – Mon 09 Nov 2016 – 3 Spaces Fri 27 Nov – Mon 30 Nov 2015 – 3 Spaces

Totals:

Birding Ecosse all time total : 183 species 2015 total (so far) 155 Long Weekend: 101 Mid Week: 87 Full day: 74 Half day: 45 
 Hello world!!
Yes finally Im back online with fully functioning e-mail and landline.  All thanks to Mr Angus Robertson my local MP putting pressure on BT and Open reach.  So here is my new phone number:
01309 676720
Away to order new business card and flyers now! Keep your eyes open for updates to this page and the blog coming soon!
Thursday 09 April 2015
A lovely afternoon birding with Graham and Jackie, the venue was a local raptor valley, unfortunately the eagles just would not play ball, however a better bird of prey lay in wait unbeknownst to us! A dipper showed nicely on a beautiful Scottish bubbling stream, and treated us to a short burst of song, Oystercatchers, Lapwings and Curlews are all back on their nesting grounds in good numbers. Next to a grouse moor, and soon we were observing a male Red Grouse "canoodling"  with his female, with a haunting call of a Golden Plover as sweet background music, it was now that a distant movement caught my eye, and raising my Binos a stunning Rough Legged Buzzard came into view, This was not altogether surprising as it has been widely reported (but rather elusive) and another life bird for Birding Ecosse Another top quality day with brilliant clients, weather scenery and birds!
Sunday 05 April 2015
Just a couple of pics from a great day out on the Moray firth with Adrian and Ruth. The day started with Black Grouse, closely followed by stunning Long Tailed Ducks in full summer plumage, Grey and Common Seals, Black Guillemot and razorbill on nesting ledges alongside Shag, Fulmar and Kittiwakes, all done in beautiful sunshine and a temperature of +18!!
Introducing the new
Birding Ecosse Mobile!
Travel in style with Birding Ecosse, in our new vehicle.
Wednesday 25 March 2015
And so to the last trip of the month and once again multiple victim Bill was picked up and soon we were watching 15 magnificent Black Grouse bubbling and hissing at the usual Lek, this group of birds are definitely on the increase and it is great to see them thrive when other Leks seem to be declining.  Next stop was the Slavonian Grebe and in the low morning sun  the Golden Plumes shone out loud and proud, a stunning little bird. Finally to the coast where we struggled hard but finally connected with our target species for the location, Velvet Scoter, they were a fair bit out but the distinctive white wing panels clinched the ID and was a good way to finish up the half day tour. So as you can see it has been a busy month for Birding Ecosse, and I can only say a big thank you to all the above who have made it so, all your bookings, humour and generosity of comments make it a fantastic way for me to make a living and gives me a sense of pride that a may be doing something right! Thank you Thank you Thank you
and hopefully see you all sometime in the near future!
Tuesday 24 March 2015
Marion and Stu Eagle watching
Today was unusual in that todays guests were known to me, it was Frau Marion from The Grant Arms Hotel and partner Stu (happy birthday Stu!) and we were Findhorn Valley bound, after a relatively quite first half trip up the valley things started to "kick off" when a female Crossbill flew across the car an perched on a fence wire giving outstanding views! Very unexpected bonus bird! It was not until we were returning down the valley when the Eagle action started, two immature birds where spotted low over the hills and  after a quick car chase down to about mid point we were soon watching some breathtaking Eagle antics! Low long glides over the heather covered slopes, talon grappling and some beautiful prolonged views as they just soared effortlessly on the updraft from the hills, it certainly has been a great time for Eagles
Friday 20th March 2015
Out on another Birding Ecosse long weekend special, with returning victims  Graham and Judy, it was a few weeks earlier than last year so it would be interesting to see if we could beat the 98 species they had last time (and still stands as the record for a long weekend) It was an interesting start to a tour with an almost complete (98%) solar eclipse, and away from the bird life it was surprising just how cool it got, and also how quickly a stiff breeze began as the sun darkened. Now onto the birds! our first birding spot was Lossie estuary, where we soon connected with one of the days target birds, Snow Buntings a requested lifer for graham and Judy, the birds performed well flitting between river banks and giving some great views, but another lifer was gained in the shape of an Iceland Gull.
The rest of the day was spent touring the inner Moray area, a Water Rail was heard but not seen at Loch Spynie, but the Invergordon Selkies made it for that, with both Common and Grey seals being present pulled out on the rocks. The day ended at Burghead again, this time without the eclipse and gave great views of Long Tailed Duck and Common Scoters.  A good start to the weekend with a day total of 60 species. Day two started well with a beautiful full plumaged Black Throated Diver lounging around on a tranquil Scottish Loch, the lovely weather and the constant "go back go back go back" calls of the Red Grouse just adding to the atmosphere. Highlight of the day though has to go to the spectacle of Two Adult White Tailed Eagles soaring together with two Immature Golden Eagles, one of those moments that will stay like a photograph in my mind for many years, a truly magical experience. In total we had 3 WTE and 4 Goldies on the day!
Day three dawned on a beautiful Scottish grouse moor, and with 16 Male Black Grouse strutting their stuff in our scope views it certainly was a great way to start, after a substantial breakfast at the Grant Arms it was Northward bound for us. The effects of the solar eclipse were still in evidence when we arrived at Loch Fleet, and areas that normally were flooded fields were now under water, this put paid to my Greenshank hunt! However star bird for the day was a Puffin, picked up by Judy, as it swam about just offshore the pier at Golspie. 60+ Pintail and some stunning cloud formations at Nigg Bay was a nice way to round off the day. The final day ended with a walk around the beautiful Anagach woods, no sign of the Caper from last year,( it must have moved :-)) but absolutely stunning views of Crested tit and a fly over crossbill ws a great way to end the weekend, we didn't break the record (we ended up with a respectable 90 species exactly) but the great company, stunning weather and outstanding birds and scenery more than made up for that!
Wednesday 11 March 2015
Well today I succumbed, on the pretense of visiting my darling daughter down in Aberdeen, I persuaded her to be my taxi service (how times have changed!) and we were soon heading to see Harly the harlequin Duck in a park in a city! The bird was quickly pointed out to us quite a distance upstream, so a brief drive later, through some bandit country, we were soon reveling in superb views of this little beauty:
Saturday 28 February  - Tuesday 03 march 2015
A  Birding Ecosse long weekend began with a quiet drink in the Hotels bar, it was great to meet up with Olga and David again, and many of the jokes we shared last year started again, like it was only last week! I knew then it was going to be a great weekend! The weather tried it's hardest to ruin or enjoyment, with heavy rain, snow and high winds being the order of the weekend, however we were not to be deterred.
A total of 91 Species were noted during the weekend, with the star bird for me being a lone male Capercaillie, standing motionless on a road in a beautiful Scottish Forest, the picture below is one of Davids (thank you for for leting me use it david), this is probably the bird that has given me most pleasure in  sharing in all of my tours so far, as both David and Olga had tried for many years to connect with this species, and to do so in such a fantastic way left me a very happy tour guide.
Other Highlights included stunning views of Golden Eagle, getting mobbed by Ravens, peregrines giving a buzzard and extremely hard time and a lone redpoll feeding in a mixed flock of tits and finches in a scenic Scottish Glen.
All in all a fantastic weekend, in great company, and I look forward to meeting both David and Olga later in the year to do it all again
Friday 27 February 2015
Friday 27th saw me on a local grouse moor with returning visitors Andy and Jane, it had been two years since we last met but it felt like only a few months ago! Luckily this time we connected with 15 male Black Grouse on a snow covered moor.
Heading up our local raptor valley we were treated to stunning views of two very pale Common Buzzards, but sadly no Eagles….. that is until we were heading back down the valley when two visiting and very helpful birders (staying in the Mercedes motel!) waved us down to say the had just seen a Golden Eagle disappearing behind a ridge. A quick race down the road and we were soon watching an immature bird glide effortlessly across the far side of the valley, happy days!
Andy and Jane post Eagle spotting
Heading North over the Kessock Bridge our next top sighting had four legs not two and fur not feathers, an Otter swan directly in front of us, then hauled out onto a weed covered rock to finish its lunch!  Probably one of the best views of Otter I have had.
Otter
                                                                                            Wednesday 19 and Thursday 20 February 2015
A mid week special in the company of Janet and Anthony turned up some nice birds, the first morning we were treated to a fine adult White Tailed Eagle hunting over the grouse (less) moors being buzzed by a Peregrine Falcon! (we returned later in the day and managed to pick up 22 Black Grouse flying out of their afternoon lek, but even better was when Anthony picked up a lone male perched on a stump of wood not 40 feet away, stunning views!)
The Coal Tits proved to be more skittish than usual, but once Janet have offered up some seed they were soon coming down for a feed!
"Feed the birds, tuppence a bag…."
The new owners of Cairngorm Mountain incurred my displeasure when trying for a second day to get up on the funicular we were told "uplift only for skiers!" so someone who uses the train every month of the year gets pushed aside for the "flash in the pan skiers" Priorities wrong somewhere I think!
However every cloud and all that…. on the return journey we managed to pick up a Glaucous Gull on a frozen Avielochan!
Glaucous Gull
Another highlight was some absolutely first class views of a Brown Hen harrier as it drifted past the stunning RSPB hide at Insch Marshes.
Another brilliant couple of days in super company, my story about the Dolly Parton Salmon led to an impromptu sing along and my normal failed attempts to visit the famous Inschriach coffee shop was not only closed for the day, it was closed until 01st March, they must know I am in the area… one day, one day!
Monday 16 February 2015
Well back to playing catch-up with my admin, all down to being out in the field bird watching with people
Monday dawned with doing a pick up from a new location, the Palace Hotel in Inverness, a very nice hotel it was as well.  Richard and Serena were waiting patiently when I arrive and soon we were heading over the Kessock Bridge , Our first stop soon turned up the usual suspects Wigeon, Oystercatchers, Teal, and various gulls, however the stars of the show was one of the five (yes thats right Five!) otters, this fantastic animal came very close at one point as if it was checking us out checking it out!
It was a simply stunning day weatherwise, with a very light wind and bright but not glaring sky giving beautiful tones and colours to the landscape, stopping off at my usual coffee stop we were treated to some distant views of Dunlin, closer views of colour ringed Curlew (a very interesting project being carried out by Dr Ron Summers) and yet more Otters.
As we headed across to a local hide, it became apparent the Richard and myself shared an "employer" in the past , and so began the story telling and rivalry !! At the hide we had some stunning views of Redshanks and a winter plumaged Little Grebe, the tide was a tad too high, however this proved a god send for the next species!
Moving towards Cromarty we were treated to a closer than usual raft of Scaup, a lifer for Richard and Serena, and once more proving "there is no dross with Birding Ecosse!" And so ended a fantastic morning, with a new half day record of 45 species for Birding Ecosse.
Monday  09 and Wednesday 11 February 2015
A very enjoyable day and a half spent with Pamela, covering a variety of habitats. Monday was to be wader and duck day, the weather was windier than forecast and our first stop at Nairn beach treated us to a fine sand blast! However the area proved to be a haven for some good birds.  This flock of Knot provided a laugh out loud moment as they moved en-masse up and down the beach trying to keep their feet dry.
Heading to Lossiemouth the star bird was a Grey Plover, a bird not altogether common in this area and a new bird for the Birding Ecosse life list, bolstering this total to 178
Next stop was the beautiful inland Loch at Spynie, and we soon had our target bird Water Rail in our filed of view, in fact we briefly had two birds in view at once! Heading back the coast, the wind had picked up quite considerably making duck watching pretty difficult, but we were able to pick up Long Tailed Duck, Common Eider and Common Scoter, so not a bad haul and the target bird for this area a Purple Sandpiper.
On Wednesday I picked Pamela up bright and early and what a change in the weather, it was stunning so onwards and upwards to the Findorn Valley. Three individual kestrels at the beginning of the valley was a nice sight, as usually they are outnumbered by Sparrowhawks, a nice group of Redwings perched at top some trees looked beautiful in the sunshine.
Unfortunately the Eagles refused to play today (after getting some stunning views of two immature birds the day before) but the company, weather, and scenery made it a very enjoyable morning.
Friday 06 February 2015
As you look out at your garden bird feeder, two birds provide a muted splash of colour.  They are the Greenfinch and Siskin. Both the males of these species are fairly straight forward to identify. The Greenfinch being the larger of the two, it displays a mainly bright green body with flashes of bright yellow on the tail and wings and a heavy conical bill. The Siskin is smaller – the male still sports green plumage with yellow in wing and tail but also has a black forehead and bib, and a smaller, finer bill with dark streaking on its flanks, lower belly and back. The problems of identification arise when the females are involved. Once again the Greenfinch is somewhat larger than the Siskin, but is duller and a more subtle green than the male, and although it still carries yellow in the tails and wings this too is less prominent. It also carries some very slight streaking to the flanks and belly.  The Siskin female has more contrasting plumage, with obvious streaking on the flanks, back and head. Peanuts and seed feeders are used by both birds; however Greenfinches have a particular taste for sunflower seeds whilst the Siskin, with its more delicate bill, shows a preference for Nyger seed. Both birds are resident breeders in Scotland, but their populations can be supplemented by varying numbers of continental birds in the winter time. As winter draws to a close and spring starts to show its hand, the number of Siskin's will fall off as they move away from gardens to their favoured breeding grounds in nearby spruce and pine forests. The Greenfinch however will remain in mature gardens and parks building their nests usually in thick evergreen bushes and shrubs. For all those people reading this blog did you know I do a monthly newsletter? To subscribe just drop me an email and I will put you on the mailing list, the newsletter is full of special offers and reduced cost day trips, plus plenty of stories, news and pictures of what is going on in the world of Birding Ecosse.  So get in touch and dont miss out on some fantastic deals
  Please send me the Birding Ecosse Newsletter
Wednesday 28 January 2015
The weather forecast looked extremely dodgy as I pitched up at the Grant Arms Hotel ready and raring to go, but with the offer to Fiona that we would take the day a stage at a time. First port of call was to a flooded field, where fellow tour guide John Poyner had picked up a Glaucous Gull the day before, as we arrived there  were not many birds in the water logged field but amazingly enough, the target bird was one of them!  A great way to start the day with a lifer for Fiona.
Due to the forecast we headed for the Glens first, unfortunately the weather caught up with us quicker than anticipated and as we supped our first cup of tea the snow started, and gave a great example of just how quickly the weather and road conditions can change up here in the highlands. In the space of 30 minutes it went from a green and pleasant land to whiteout conditions.
Heading briskly to the coast, we were soon watching some stunning Long Tailed duck and Common Eiders along with Purple Sandpiper, Sanderling and bar tailed Godwits.  Loch Spynie gave some cracking views of Water Rail and flocks of Long Tailed Tit. An excellent day tally of 56 species in the weather conditions proved that heading out in less then ideal conditions can be extremely rewarding.
Sunday 25 January 2015
A highlight of the birding year for me is the annual RSPB Big Garden Birdwatch, a fantastic weekend when thousands of households all over the UK sit for an hour and count the maximum amount of all species seen at one time, that is to say, you have 4 chaffinches on your feeder at once the count would be 4 chaffinches for the hour, if another two fly in at the same time then it would be six, all six birds have to be seen at the same time though.  A highly entertaining hours birding, the highlights for me was the ten Long Tailed Tits and four Tree Sparrows. Total counts for the hour: Chaffinch 26, Blue Tit 5, Great Tit 2, Fieldfare 6, Pheasant 5, Robin 2, Dunnock 1, Greenfinch 3, Blackbird 1, Coal Tit 1, Woodpigeon 4, Jackdaw 2, House Sparrow 2, Long Tailed Tit 10, Collard Dove 1, Tree Sparrow 4, Great Spotted Woodpecker 1.
Thursday 22 January 2015
I would like you to meet an old friend of mine, X051512, A Blue Tit ringed as a young bird in my garden way back in August 2010. In the remarks column I have remarked on its bright plumage, and it is still looking splendid!
Monday 19 January 2015
A beautiful frosty morning here in the Scottish highlands and an ideal day to get the 2015 ringing season underway, just one net up and only for about forty minutes but a great way to shake off the cobwebs and getting some birds in the hand.
Saturday 17 January 2015
The weather continues to dog us up here in the far north, strong winds, snow, rain plague and pestilence. But undeterred I set out today for Aviemore to pick up Karen for a "Big Day" with Birding Ecosse. First port of call was Burghead Turnstone fed busily along the harbour wall, Cormorants and a single Shag hung their wings out to dry nd gace great views for identification comparisons as did the various nearby Gulls. Female Eiders and a single immature male Eider gave Karen so brilliant up close views as they sailed around in the inner harbour. Next we headed through to Lossiemouth Estuary where a Green Winged Teal had recently been reported (via Birdguides) as we scanned through the Teal and Wigeon flock, local birder Duncan came down to say he had it in his scope, a much appreciated gesture as it would have been a little while before we got to scanning that part of the river.  A lifer for Karen and a new bird for the Birding Ecosse life list , so thank you Duncan
Next stop off was Loch Spynie, the track towards Caysbriggs farm was absolutely alive with birds, Fantastic numbers of Reed Buntings flitted through the bushes, Yellowhammer, Tree Sparrow, Goldfinch, Robin, Fieldfare, Dunnock, Blackbird and a Great spotted Woodpecker all added nicely to the ever growing days tally. On the loch the number of Mallards present was the most obvious change from my last visit, Duncan (same as above) once again put us onto another star bird, a male Gadwall, not a common bird up in these pasrts, as I sifted through remaining ducks I also picked up the female, the feeders at the hide werre busy with myriads of Long Tailed Tit, Blue, Coal and Great Tit and Chaffinch all present. Two Waterrail scuried past the hide unfortunatley Karen did not see these so cannot be added to the list. Walking back to the car a Wren played a game of hide and seek and a brilliant view of a Carrion Crow harrying a Buzzard and actually forcing the Buzzard onto the ground. After a quick refreshment stop we headed for a drive in the local area in search of Whooper Swans, we were in Luck with a small group of ten birds loafing around on a frozen pool in a stubble field. As the day wore on it was back to the coast, and Burghead, this time to the East side of the Peninsula and our target bird for this location didn't disappoint, Long Tailed Duck where just offshore, with a group of male "a courting" one lucky lady. We caught the occasional trumpeting call of the males through the wind noise.
Soon the light was fading, and after a glorious sunset over Findhorn Bay it was time to return Karen to the snowy land of Aviemore.  A great days birding in brilliant company, with a total species count for the day of 61 and not forgetting that Green Winged Teal what a great bird for the start of the year. Harlequin Duck anyone :-)………………………………
Thursday 15 January 2015.
We have had some shocking weather to start 2015 and  so not been out much at all. As I sit and write this blog the wind and rain hitting the window makes it feel like I am sitting in a car wash! This is the sort of day when I like to sit and listen to the weather outside and trawl through some old pictures, this one made me laugh! It was at a place called Grassy lake in Alberta, Canada. We were down looking for Yellow Headed Blackbirds but when this picture was taken who knows what we were looking for! All points of the compass covered! Thanks to Irene and Dennis for the pics.
Wednesday 07 January 2015.
So we have a harlequin Duck in Aberdeen, an Ivory Gull on Skye, but my highlight of 2015 so far?
Today I received a package from Glenn and Karen (AKA Skinkman and Grumpy) all the way from the US of A, it rattled as I picked it up.. what could it be I wondered, and never ever would I have expected such a well thought out gift would be inside! I am a very happy birder today
I have worked out if I have three M&Ms a day it will last a full year
or until Lynda finds the stash! Thank you so much skinkman and (not so) grumpy
Thursday 01 January 2015
Happy New Year!
Happy New Year to you all, just think only 359 days until Christmas
The first day of 2015 dawned very wet and very windy, but the day also dawned on a very special visitor, an Ivory Gull.  The only problem was it was on the Isle of Skye, a round trip of 300 miles. Will we go for it or not? Silly question, it was still dark when Lynda and I set off! The rain never abated all day, however this actually added to the day with the mountains shrouded in mist and the rivers and streams in full spate it was all very atmospheric. A beautiful, if non birdy stop off was at Eilean Donan castle, the first time I have actually parked and looked at this Castle, definitely a trip in itself, however this was not getting the job done so we were soon on the road again.
Arriving at Uig I was a tad concerned that there were no other tripods/cameras/binos/scopes on show….. had the bird gone?  Bracing ourselves against the gale force wind and lashing rain we started kitting up, looking up a very pale bird disappeared behind the pier cafe, was that the bird, had we just missed it?  Another couple appeared out of the murk and confirmed the bird was still present and indeed had been showing well for the last half hour, phew… We took up position, sheltered behind the Pier Cafe, and out of the wind and rain it was quite pleasant, and then a white streak whizzed past, the Ivory Gull was back!! What a star of a bird, the pristine white plumage dotted with black spots denoting this bird as an immature. Quite a delicate little birds, but very nimble and completely at home in the atrocious weather. We ended up watching the Gull for nearly two hours getting some passable record shots, but oh to have a glimmer of sunshine though.
So a fantastic start to the year for me personally, and with a healthy Birding Ecosse booking diary here is to a bumper year, and really looking forward to birding with some familiar faces and subjecting some new faces to Tunnocks and Tea
Thursday 25 December 2014
Merry Christmas!! Today started with a beautiful walk up the Grantown view points, it was a fantastic morning -4 and bright sunshine and 21 willing walkers assembled outside the magnificent Grant Arms Hotel, home of the BWWC.
On the walk to the viewpoints some of the commoner birds were notched up, Collard Dove, Starling, Blue, Great and Coal Tits all put in an appearance. Arriving at the old railway line the weather was still holding, and the birds were feeling spring like, with both the Great and Coal Tit giving their spring songs!  We also found the some hair ice, the first time I have seen this form of frost, and a very unusual sight it was. Chaffinch and Siskin buzzed about and I heard a single bullfinch call, soon we were climbing up to the first viewpoint.
Birdlife at the top was fairly quite so after a brief rest and a long lingering view of the above scenery we were soon heading back to the hotel, fresh faced and ready for Christmas lunch, highlight of the return trip was a female bullfinch munching away happily in the sunshine.
The Christmas lunch was absolutely outstanding, the Chefs had outdone themselves and it was a first class meal, the Dining Room staff were attentive and very efficient, and the multipurpose bar staff didn't seemed phased regardless of what task was given to them and the reception was manned by the highly organised Marion, everyone involved did a brilliant job and made the whole break an absolute pleasure. Finally a big thank you to John and Nicola for the invite, it really is appreciated. To Santa sorry David Duncan for making things run so smoothly, and also thank you to Sue, Gordon and Chris, Graham and Rosemarie, Duncan and Peter for making the day complete for Lynda and myself.  Ho Ho Ho (I look forward to your Antarctica talk Duncan grrrrrrrrrrrr)
Special Offer for 30 and 31 December 2014
See out 2014 in style
Monday 15 December 2015
Sorting through some folders of "pictures to be sorted" I came across these stunning pictures sent to me by David Burliegh. This exquisite bird was seen on the Darnaway estate and since this picture was taken at least two of these Blue Pheasants have seen regularly. Beautiful pictures so a big thanks to David Burliegh for allowing me to use them.
Sunday 14 December 2014
A Mediterranean Gull at Embo, Highlands today (as per birdguides.com) just how wrong can a bird get it?! Possibly one of my favourite pictures of the year, if you look closely you can see the reflection of the Ptarmigan Restaurant in the Ptarmigans eye (yes I know it's now supposed to be called the 1089 or 5698 or something, but it will always be the Ptarmigan to me!) taken way back in the long hot summer days!
Friday 12 December 2014
Sitting here looking out on a very dull, very wet and very windy landscape, and dreaming of sunny holidays with stunning birds.  A picture that encapsulates both, this little Ruby Throated Hummingbird, photographed in Alberta Canada…….. might start planning a return visit
The long staying Ring Billed Gull reported again at Dingwall (via Birdguides), I really really need to make the effort to connect with this bird!  New species for the Birding Ecosse list…. Peter if you are reading this, looks like you will be stopping in at Dingwall next week
Tuesday 09 December 2014
Two Red Necked Grebes reported off WhitenessHead today is an unusual sighting for this area, and Pomarine Skua up at Embo continues the fantastic season for this species.  Both sightings from Bird Guides.
Friday 05 December 2014
Well after a nice relaxing November it is back to a full diary and fuller on birding. It is a great feeling to be out and about with a renewed zest for getting some birding done. Friday 05 December dawned very early and very darkly! The forecast was not looking great, but off Derek and I set with a feeling that all would be alright. Heading towards Inverness and the Inner Moray  Firth it soon become apparent that the birds Derek really wanted see would be better observed at Roseile, cue a right hand turn at Ferness! Soon we were at Burghead and merrily watching Common Eider, Common Scoter, myriads of Long Tailed Ducks and one lone Gannet.  Sammy the Grey Seal also bobbed around in the harbour watching us watching him! Onto Roseisle, where the birds were frustratingly at distance today, however the Male Velvet Scoters did put in brief appearances between the waves showing off their white eye and wing patches. Next onto Nairn and a busy little spell,  the almost winter resident Brent Geese put on a fine display and with the Purple Sandpiper mingling around with the geese it gave a true sense of winter.
Goosander, Red Breasted Merganser and a single Black Guillemot also added a bit of diversity and a Rock Pipit hunted for any type of food between the rocks on the foreshore. Next stop was Loch Flemington, home of last years long staying American Coot, however today it was just the usual Fayre with Moorhen, Mute Swan and Goldeneye adding to the days tally.  Im going for a prediction here though, I reckon the AmCo will turn up again sometime this winter (if the historical records are anything to go by) Off to Alturlie point, looking for the next target species, Scaup.  We were not to be disappointed with a small group of females close to shore and a larger mixed group of males and females further out into the bay.  Bar Tailed Godwits and a nice flock of Knots also in the area. As the light began to fade we drove back to the Grant Arms hotel via a little known Glen. Two things surprised me on this route home, the first being the amount of cars we had to let past, probably 10 (usually you see no vehicle at all!) and two was the covering of snow that was on the roads! On the bird front we notched up Woodcock, Red Legged Partridge, Red Grouse and Pheasant, a nice way to round off the day.
Saturday 15 November 2014
Surprise! Yes I am still out and about folks, just life (birding and non-birding) is still hectic and making getting on the computer almost impossible, however a brief trip into Forres Town this morning produced some nice views of Redwing.  Winter Thrushes have arrived in fantastic numbers over the last week and wherever you go at present there are flocks of Fieldfares and Redwings flushing from every bush. A few Waxwings have been getting reported in the area, however I am still to connect with one of these stunning winter visitors….. so keep tuned.
Tuesday 07 October 2014
It was one of those birding days that come along every now and again. Heading towards Ullapool with some trepidation after yesterday storms, I was concerned there may be a huge sea swell, 1 not good for location birds 2 I'm not the best sea goer! However arriving at the port the water looked flat calm… so far so good! Heading towards the forward observation deck we took up position in the centre of the ship looking forward, as the boat glided out towards the Minch the first birds to come into view were five winter plumaged Black Guillemots. Good numbers of Kittiwakes were buzzing back and forth over the still calm water surface, and the first Bonxies and Gannets made an earlier than usual appearance.  The rain started to increase at this point (about mid Minch) and unfortunately started to obscure the view through the window, so there was nothing else to do apart from donning the gortex and heading up onto the rain swept and deserted deck. Sheltering to the rear of the boat it wasn't too unpleasant and we started to pick up more and more birds, Great and Arctic Skuas harried kittiwakes and Gannets all over the sky, every where you looked seemed to have a skua, then a club tailed beast flew through the field of vision, the first Pomarine of the day, a pale phase bird still sporting full spooned tailed feather, brilliant! A "kittiwake" flew past, showing dark mantle and forewings… what?…… picked the bird up again and there it was an immature Sabines  Gull feeding along side the Kittiwakes!!  Another Pomarine and another drifted past. Scanning behind the ship I picked up three smaller birds bouncing through the air toward the ship….. my first impression by the bouncing flight was pipit, however as the approached and fluttered around the handrails it soon became apparent they were Brambling!
They were very flighty, not settling for long and in total four birds where seen. They remained on the ship for at least 40 minutes and approached very close at times. Pomarines numbers were increasing and after a brief stop over in Stornoway it was time to head back and the theme continued, four loafing around on the water next to the ship… just amazing! The first Storm Petrel flashed through at distance, as was to be the theme of the day unfortunately and a single Manx Shearwater skimmed the waters surface. Then out of the blue two small waders then appeared to be riding the pressure wave created by the bow, two Dunlin zig zigged for a few seconds before putting on a spurt of speed and headed direct for the mainland. The second bizarre bird encounter of the day! It didn't stop at birds either, we also encountered good numbers of Common Dolphin, Harbour Porpoise, Two Rissos Dolphins, showing huge dorsal fins (I would estimate two or three times the size of a Bottle Nosed Dolphins) and two Minke Whales. Probably the best ferry crossing I have had and cannot wait until next trip across!
Monday 06 October 2014
Batten down the hatches!! It is so wild outside, all birding activities suspended until tomorrow morning! In the meantime here is a small teaser to get your minds working, so name the bird!
Wednesday 17 September 2014.
As I sit and update this blog, I am looking out on a beautiful autumn morning up here in the Highlands of Scotland, the sun is shining and a autumn mist is clearing slowly from the Pine Forest, a morning to feel happy with life
It has been a brilliant few days with Birding Ecosse with visitors from way down under Australia, Southern England and most exotic of all Dumbartonshire, thanks to you all for making my job of guiding such a pleasure. We have travelled the breadth of Scotland from Stornoway to Troup head in search of  birds, and have had great success adding many "life list" birds to all who took part, witnessed Minke Whales, Common Dolphins and Porpoises surface on a mirror like Minch, listened to Grey and Common Seals "talk" to each other at close range, plus took in some of the rich historical sights the area has to offer, MacBeth country at it's best and the "Wolfs Lair" floating on a serene Scottish Loch.
Birding Highlights include flocks of Manx Shearwaters cruising low over the water and a total of three Sooty Shearwaters joining their smaller cousins, fluttering flocks of Storm Petrels, looking so like House Martins as they skimmed and danced on the oil like water surface, the brief visit of the larger Leach's Petrel was an excellent bonus bird. A helicopter passing overhead the Gannet colony set all the birds to flight, and gave us the opportunity to see just how many birds this colony holds, it truly was a wildlife spectacle that would have impressed even non-birders but the sight of some very young chicks caused concern that they would fledge in time before the cooler weather sets in.
We were lucky with the weather, as has been the case for nearly all my tours this year, with the atmospheric early morning mists clearing quickly to reveal long sunny and at sometimes quite hot weather, we got up to 23 degrees on one afternoon! The only moment of worry was on the Grouse moor where the male Black Grouse were just shadows through the mist, then a slight clearing and there they were, for all of 15 seconds before once again being swallowed up in the white haze! luckily perseverance won out and the visibility went from about 100 meters to crystal clear in a few minutes.
So that was the week that was, the Birding Ecosse species total for 2014 now stands at a fantastic 165! (A full list will be published at the years end) but a great total so far. You can also keep up to date with our exploits on facebook  https://www.facebook.com/dslaterbirdingecosse?ref=hl or on twitter @birdingecosse  see you all on the other side!
Sunday 14 September 2014.
Whilst guiding down at Portgordon I noticed this Herring Gull with a badly deformed bill, quite creepy looking actually.  It was an adult, and apart from the plumage being a bit scruffy, the bird probably isn't able to preen properly it seemed perky enough.
Monday 08 September 2014
Pig Pen!
Well back to the pig pen, third day in a row, unfortunately on this occasion the Pectoral Sandpiper was nowhere to be seen but that did not detract from the stunning birds that remained. Today's count, 28 Dunlin, 2 Ruff, 8 Black Tailed Godwit, 6 Ringed Plover, 1 Common Sandpiper and a cracking wee Little Stint!
Saturday 06 September 2014
Unblocking the Blocker – or how to get rid of a bogey bird!
Driving back from Inverness with Lynda today I decided to show her a good time by taking her to the local pig farm to watch the "wader show" that has been in progress the last couple of days. It was good to see the road was clear of other parked cars as we took up position beside the small pool right beside the road, and proceeded to scan the water, what was immediately obvious was the "larger waders" had departed, no Black Tailed Godwits or Ruffs at all!  There was however still 10 Dunlin and one Little Stint feeding away busily. Lynda then pointed out that a larger wader was feeding along the edges of the bigger pool just a little further into the pig field, so we duly moved the car up a few yards and that is where it all changed! It was indeed a larger wader, but a very special wader for me, a Pectoral Sandpiper, a bird I have been trying to catch up with seriously for the last three years! One had been reported on Bird Guides across by Loch Spynie, but here we were watching our very own bird! So for the second time this year Lynda had scored me a lifer! It showed exceptionally well and even allowed me to get some more than passable shots, it was still present when we left… I wonder where I will be heading tomorrow? (but I bet Lynda gets there first!)
Friday 05 September 2014
Just finished a fantastic couple of days guiding Tony, Fiona and Cindy. Broke my mid week special record by connecting with 87 species in two days and Birding Ecosses total for 2014 so far has now reached 160!! Full report will follow shortly, however here are a couple of snapshots to keep you going for now!
Tuesday 02 September 2014
Nice half day tour with Bill, starting off on the Lossiemouth Estuary, Ringed Plovers seem to have done well this year judging by the amount of young birds hanging around the mud flats. Gull numbers were a little lower than usual with one very pale mantled Lesser Black Backed Gull leading to discussions on Yellow Legged Gulls. From the harbour the sea was fairly quiet, with a smattering of Gannets, Kittiwakes and Fulmars in the area, one distant Bonxie was seen, and was to prove to be the only Skua of the day.  At least four Bottlenosed Dolphins made an appearance about mid distance from the harbour wall. Last but not least we set off to Burghead, the male Eiders are still well in eclipse plumage and loafed around just offshore, but star bird for today went to a single Whimbrel call as it flew over the point at Burghead in the company of two Bar Tailed Godwits. Final bird of the day was a fine Peregrine perched on a straw bale beside Findhorn Bay.  Great weather, great company and a top mornings birding.
Monday 25 August 2014
The final morning of this Birding Ecosse long weekend dawned bright, clear and for the first time this season, frosty! I had to scrape the windscreen!  However it was one of these "great to be out early" autumn mornings, even Daphne and Margaret didn't look too upset at the early morning call! Soon after the pick up we were surrounded by fantastic Scottish moorland,and watching a Black Grouse lek. A total of six/seven males were in the area and although the grass is still fairly high they showed well "strutting their stuff, to who we don't know as we could not see any females in the area!
Back to the hotel for breakfast, then down to the Beautiful Anagach woods in Grantown for a woodland walk to end the weekend. Plenty of small birds were in the area, Blue Tit, Coal and Great Tit, loads of Treecreepers, some giving brilliant views and a single Goldcrest, which tied up nicely with yesterdays White Tailed Eagle thus giving us the smallest and largest UK species! The day was still clear and cold, but absolutely stunning nonetheless and the dew forming on the spiders webs gave some brilliant photo ops!
A female Roe Deer stood motionless as we passed, I was quite surprised to see her here as there had already been a lot of dog walkers in the area (all dogs off leads and crashing here, there  and everywhere, it's just Lossie Estuary with trees!)  But the Deer just stoop patiently watching the world go by.
So ended a really great weekend with birding highlights  being superb views of nesting Gannets, crippling views of Manx Shearwater, Bonxie and Storm Petrels, Golden and White Tailed Eagles soaring majestically over beautiful heather covered Scottish Mountains, Black Grouse on a frosty moor, the spectacle of hundreds of pre-migration Swallows and House Martins draped on telephone wires and fences and the thrill of more unusual birds such as three Redstarts in a day, spotted flycatchers, Redpoll, Bullfinch, Siskin and Chaffinch all in the same flock and still my favourite bird of the weekend, a lone Redwing with an identity crisis hanging out with a flock of Mistle Thrush!
Sunday 24 August 2014
Well today was one of those days that wherever you turned there were brilliant birds to see, the weather was for the most part beautiful, and the feel of autumn was in the air. Redpoll, Redstart, Spotted Flycatcher, Siskin and Bullfinch in a single flock was a great way to start the day, Slavonian Grebe and Wheatear kept the great bird theme going and ending with a trio of beauties in the shape of adlut White Tailed Eagle, a sub adult Golden Eagle and a Peregrine Falcon. But all of these were surpassed with todays "surprise bird" a Redwing mixed in among a flock of Mistle Thrush!!
Friday 22 August 2014
A fantastic day (albeit dodging heavy rain showers) at Troup Head and the Moray Coast.  The Gannets were just outstanding with a surprising range of ages of chicks still on the nesting ledges.
Tuesday 12 August 2014
Not a birdy post just a quick comment on the absolutely horrendous weather we have encountered over the last 72 hours, below is a couple of comparison pictures of the River Findhorn not far from where I live, and by the looks of the river bank it has dropped at least 6 feet from yesterday,
Thursday 07 August 2014
Had a fantastic couple of hours just good old fashioned birding with Robert from Nethy today, beautiful weather great company a relatively new area (even though it is very close to home!) and some brilliant birds! Choice of venue today was Findhorn Bay for the Spoonbills that have been reported on Bird Guides for a good few weeks now.  Arriving at the Bay it was a glorious morning, very light breeze, clear blue sky and a very pleasantly warm sun.
We had not long left the path and were walking along the edge of the marsh, keeping the bank behind to break up our silhouettes when a Green Sandpiper flicked up from one of the flooding ditches its dark underwings and body contrasting sharply with the crisp white rump, a cracking start to the morning. Flocks of Linnets twittered and tweeted (no, not on mobiles) and sat perched on top of the gorse bushes, skylarks tchurruped their contact calls overhead. Robert picked up an Osprey perched on a dead tree stump, the whole area is littered with ideal perches for Ospreys and this was to be the first of five birds seen on the morning. Proceeding along the marsh a small group of waders took flight, six Redshank and two Greenshank more nice birds to add to the mornings tally. As we neared the River Findhorn Mouth we stopped to scan a flock of roosting Gulls and hey presto, three very long legged "gulls" were roosting alongside the normal birds, three Spoonbills!  Target bird found with a few extras thrown in, what a great way to spend a morning!! Below are my very very very poor record shots, between the distance ( we knew another birder was heading for the Spoonbills from another direction so I didn't want to spook them and spoil his morning) and believe it or not a heat shimmer (yes a heat shimmer in Scotland!!) it was not conducive to good shots.
Tuesday 05 August 2014
Out for a  half day tour with John from the BWWC at the Grant Arms  Hotel in Grantown on Spey, and as has been noted all this week there are signs of Autumn approaching! (sorry!) Large flocks of Meadow Pipits are in most fields and moors as they build up their fat reserves prior to migration, Swallows and House Martins are at the same stage and flocks of 40 to 50 birds are now being regularly seen on telephone wires. Todays highlights were a Juvenile Cuckoo, and an Osprey getting mobbed by a Sparrowhawk just out side Tomintoul.
Saturday 02 August 2014
Day two of a Birding Ecosse Long weekend with David and Angus, we have been seeing some fantastic birds including Merlin, Osprey, Red Throated and Black Throated Divers in full breeding plumage, attentive Slavonian Grebes feeding and protecting their offspring, Bonxies by the bucket load but star bird, for me at least, was the  Whinchat, the first I have seen in UK for a good few years!  A couple of not too great pictures below, the Fulmars just to show off the amazing smooth quality of the Minch, and the Whinchat…. because I like it
Thursday 31 July 2014
A nice relaxing admin day today and prepping for a Birding Ecosse Long Weekend.  It should be fantastic few days with a Pelagic trip, a seabird colony visit and a day in the Hills and Valleys to look forward to, I cannot wait! I was just browsing through my pictures of the last few weeks and found this nice selection of a Slavonian Grebe chick, what is nice about this site is that it is full public access so no disturbing of a schedule 1 species,
Sunday 27 July 2014
Well the fantastic summer of trips and tours continues, and time for doing any admin or domestics is getting less and less! Here is a few snap shots of one of my favourite birds, the Osprey. This bird was feeding at the mouth of the river Lossie and it was digiscoped, so although not nearly the best pictures getting the capture of the bird in flight is quite good going!
Thursday 17 July 2014
Today was the last of a straight ten days with some form of tour included, some full days some half days, but an absolutely fantastic time for Birding Ecosse, a huge thank you to all who booked and took part . Needless to say I have loads of pictures to publish and lots of write ups to get stuck into, but for now a couple of nice pictures from today.  Check back later to hear the story of the Ptarmigan!
Tuesday 15 July 2014
And as if the birds don't have enough to contend with, here is today's macho muppet at Lochindorb, soon to be a new watersport centre like Findhorn Bay Nature reserve?
Monday 14 July 2014
Nearly a month since my last blog, good grief!! It has been a fantastic breeding season by the looks of things here in Scotland and visits to the breeding seabird colonies and Highland Glens are filled with lots of cute fluffy chicks. Something not quite as fluffy but nonetheless fascinating was this Meadow Pipit feeding it's "offspring" and we were so lucky to actually see the adult bird perch on the Cuckoos back before depositing another load of grubs down the cavernous bill! Not the sharpest of pictures but will give you an idea of the life of this poor Meadow Pipit!
20 June 2014
0800 on the dot, and serial victim Jackie arrives bright and breezy and ready for the full day tour to the Scottish West Coast. "It's an eagle day" I said "I have a feeling in my water!"  and with that we set off. First port of call was Loch Flemington, home of the once famous American Coot, since those halcyon days it has returned to normal Loch Flemington , a Mute Swan was sitting tight on her nest and a very Juvenile Moorhen clucked about in the nearby reed fringes.  On wards and upwards to a remote highland lochan where we were treated to a fantastic sight of two adult Slavonian Grebes complete with three chicks, one in typical pose of sitting on the adults back with just the head peering through the wings. Then it was straight through to  Gairloch as I wanted to recce the road from Gairloch to Melvaig. And what a road it was! Just out of Gairloch and a large flock of Red Breasted Mergansers loafed about just off shore, the water was flat calm but the light was not ideal for digiscoping.
As we stood and had a nice coffee and biccie we managed to pick up  three Diver species in the Bay, Red Throated, Black Throated and a non breeding Great Northern where a nice aside as we had our break. Carrying on up the road a recently cut field turned up a couple of fine looking Golden Plovers…
Soon it was back to Gairloch Harbour and settled onto the fine vessel  Star Quest with Ian at the helm it was, as always, a fantastic trip, and I would urge anyone visiting Gairloch to take a trip out with Gairloch Marine Life Centre and Cruises  
The sea was still calm and provided a very stable viewing platform, what was noticable to me straight away was the lack of Auks on the water compared to last trip.
The Tysties were showing well this time, with lots of Cormorants and Shags giving good side by side comparisons. Fulmars glided past on stiff wings and Great Skuas patrolled menacingly over any headland or island, waiting to make an easy meal  of any unguarded chick or egg.
On the return to harbour a Common Tern was picked up in a rather unusual nest site, on a large slab of rock as opposed to a shingle beach or river bank, it looked perfectly happy though!
All too soon we where back on land and after a second lunch we were off to Gruinard passing the most romantic Island in Scotland, the "Isle of Ewe"  (say the name out loud and you will see what I mean) stopping briefly at Poolewe we were treated to outstanding close up views of Twite feeding in between the sea thrift hummocks. Scanning over the island I'm sad to say the eagles where no-where to be seen, had my gut feeling at the start of the day let me down?  Noooo! When driving past the first part of the Gruinard Island road, just where you climb up to the highest point, a superb adult White Tailed Eagle soared directly over head, a quick stop and reverse and we were soon looking at this magnificent bird just before it dipped behind  the hill top. Time was wearing on so it was homeward bound, however a Red Kite (the second for the day) was nice to see  and a hopeful sign that maybe the population will recover from the recent poisoning episode. A final tally for the day was a very respectable 61 species, with highlights being, Slavonian Grebe, Red Throated, Black Throated and Great Northern Divers, Golden Plover, Twite and of course the magnificent WTE. Thanks to Jackie for a great day, I await my contract for Ornithological Advisor / South American waters with great anticipation!
Wednesday 18 June 2014
Please go to the attached link and do what you can to stop this truly awful development happening in one of the "gems" of the Highlands. A big thank you to Gordon Hamlett for bringing this to my attention.
Thursday 12 June 2014
Thank you Swarovski Optics
As you can imagine being a birding guide my optics get an awful lot of use, so naturally parts wear out.  This was the case with the eye-cups on my Swarovski 8.5 x 42 EL binos.  So on the afternoon of Tuesday 10 June I sent an e-mail to Swarovski asking how to obtain new eye cups and today Thursday 12 June two new eye-cups arrived in the post Free of Charge! Outstanding customer and after sales service.  That is why I will always recommend Swarovski to any of my clients.
Wednesday 11 June 2014
Handa Island
The day started very early (0600) with Robert pitching up at my house ready for a great day ahead, within minutes we were heading for Ullapool to pick up John. En-route we were lucky enough to see a Red Kite, this first one I have seen since the poisoning incidents of a few months ago, we did however fail to pick up Slavonian Grebes,but as they say "every cloud etc" and we heard both Water Rail and Cuckoo at this location. Meeting John bang on time it was time to head North for todays location, Handa Island. I was a tad concerned that the wind had increased and was hoping the ferry would indeed sail.  I needn't have bothered!
Arriving on a beautiful sandy beach we were met by two SWT volunteers who gave us a quick brief of what to do and not do, where to go and where not to go and a brief heads up on what to look for, after about five minutes we were out on the island and surrounded by birds and bird calls!
The first thing you realise if the island is home of the Skuas, both Arctic and Great Skua are everywhere you look!
Skylarks were trilling their  flight songs and Meadow Pipits were tseeping throughout the 6 Km route. Now, on the subject of route, I was surprised at the height you actually climb to, but when you get to the highest part of the island  it truly is an amazing sight.
It was also nice to see the cheeky chappy Puffins, a real crowd pleaser
All to soon we were back at the sandy beach waiting for the ferry to take us back to the mainland, time had flown in and it hardly seemed nearly four hours had passed, it is a magical place to visit and I look forward to leading a tour back up here in the very near future.
Thursday 05 June 2014
The day did not look hopeful as I set out over Dava moor to pick up Klem and Avril in Aviemore, but the sky seemed a lighter shade of gray when I arrived so a group decision was made to push on, and it worked out well! The damp weather adds a whole new ambiance to the Glen, and the low skies had obviously deterred the Eagle watchers as we had the whole place to ourselves! Lapwing, Oystercatcher and Curlew were all showing signs of being with chicks and whilst stopping to scan these birds I picked up a Common Tern fishing over the river, we watched this bird for several minutes before I picked up a slight movement in the grass of the far river bank and there was the other Tern sitting on the nest!  Nice bird to find.
Obviously the eagles were not going to show today due to the low cloud, you couldn't see the tops of the hills at all, but the lack of big birds were more than bettered with some stunning views of summer migrants. Two Spotted Flycatchers gave great views as they fed over the river, a stunning male Wheatear showed well perched on a roadside rock and beautiful female Redstart flicked it's fox red tail from some new deer fencing and all the while Willow Warbler "hooo eeted" continually close by. So although the sun didn't shine the birds definitely lightened the gloom.
Tuesday 03 June 2014
Today I was out on a half day tour with John Woods, owner of the Grant Arms hotel and the BWWC, as always it was a great morning putting the world to rights, sorting the Scotland/England Divide and seeing some nice birds as well. Driving through a wood nearby to the hotel my eye caught a movement on a tree, stopping the car we picked up a Juvenile Great Spotted Woodpeckers head sticking out of its nesting hole.
A Redpoll was a nice addition to the day and takes Birding Ecosse's year total to 134. Two broods of Lapwing and one brood of Oystercatchers showed that the breeding season was in full flow. Heading into the Glens we picked up the usual suspects, Grey Wagtail, Common Buzzard and a nice, but brief view of a Redstart as it flitted through the birch trees. Last stop was a remote Scottish Loch where we managed to pick up two Black Throated Divers, it was nice to see both birds together, however surely one bird should have been incubating or if not have a chick in tow? Not a good sign for a successful breeding season I fear.  There was also a single Black Throated Diver at the north end of the Loch, whether this was a third bird or one that had flown form the other end  I shall never know.
Monday 02 June 2014
"A good Hare Day"
Over the last two nights I have had a new visitor to the garden, this beautiful Brown Hare. One of my favourite animals.
Sunday 01 June 2014
Happy first of June!
As the song goes it was a "lazy Sunday afternoon" with my mist net up in the garden, more to just check it over rather to catch any birds, however it was nice to get a female Whitethroat along with a Blue Tit, House Sparrow and retrap Dunnock. The Whitethroat was showing heavy abrasion on the tail feather (see pictures below)
Thursday 29 May 2014.
The day started well with an Osprey flying low over my front garden! Brilliant considering I was not on tour today I was merely filling the bird feeders! Summer is now in full swing and as I sit and write this blog I can see a young rook "experimenting" with some gravel, it keeps swallowing it then coughing it up again?!  Young Song Thrushes and House Sparrows seem to be everywhere around the garden, so far it looks to have been an outstanding breeding season. Up in the Glens there is a higher than normal number of Mistle Thrushes, these are one of the first birds to breed so are now feeding some very large offspring and also the Dipper, another early nester, has full grown young to look after. The Golden Eagles were still displaying at the head of one valley, their "roller coaster" display truly one of natures spectacles. Mountain and Brown Hare have been showing well along with plenty of Roe and Red Deer, although as you know I tend to concentrate on birds it is nice to note the other wildlife (on also a good food source for the eagles) that are in the area. I'm just putting together some trip and tours for 2015 so have a look at them to see if any coincide with your visit to the Highlands. So below is a small snap shot of pictures taken over the last wee while, hope you enjoy.
Saturday 24 May 2014
And Breathe!
Well what can I say, it has been an absolute blast this spring, with  brilliant  people, some stunning weather (and some not so stunning!) fantastic locations and birds by the bucket load. Thank you so much to everyone that has booked some form of guided walk, tour or trip over the last few months. I now have a few days free to catch up with my admin (ie blog, 2015 tours, planned trips and testimonials) so keep "tuned in" to see just what a great first half of 2014 it has been, and read about all the exciting things planned in the coming twelve months! Today when I arrived home I received a thank you card that really made me smile, thanks go to Judy for not only taking the time to immortalise me in cross stitch, but more importantly to make me look thin
Thank you very much and an extra portion of linseed is well deserved!
Friday 09 May 2014
The day dawned overcast but dry, not the forecast which was for heavy rain all day. First stop was Spey Bay, and soon we were scoping our first good bird of the day, a Corn Bunting was perched singing its heart out on a telephone wire, a great start.
Spey Bay was looking fantastic with a great hot-potch of birds. Goosander and Red Breasted Merganser loafed around in the shallows, Arctic Terns screeched at each other on the shingle spit as two Sandwich Terns looked on nonchalantly. Heading along the coast we encountered the Portgordon Seals, this is a brilliant place to observe both Gray and Common Seals at very close range.  This was the first time I had visited this location and will most definitely be a regular fixture.
Onwards and upwards to the picturesque Bow Fiddle Rock, the weather was holding up and when we arrived the sun was shining and it was a lovely summer day, skylarks were singing, kittiwakes were kittiwaking and linnets were singing, or wait was that just Judy trilling after her linseed breakfast!
With Black Guillemot, Razorbill, Shag, Fulmar, Kittiwake, Great Black Backed, Herring and Lesser Black Backed Gulls all safely on the list it was off to Macduff to catch a boat!
After a "scenic" drive around Portessie to show Graham and Judy the beautiful harbour (ie I got lost!) we arrived in Macduff in plenty time to board a Puffin Cruise to Troup Head  This was the icing on the cake to an already fantastic day tour.  We were very well looked after on the boat, including a cup of coffee delivered safely on an extremely rocky boat. As John the skipper kept the boat in position in a sheltered cove near to the breeding cliffs, the sheer spectacle of thousands of Gannets and Kittiwakes wheeling above you was just breathtaking.
To round off the perfect day we even had a close swim past by a pod of Dolphins, a fantastic end to a fantastic trip with Birding Ecosse
Friday 02 May 2014
Life has been extremely busy at Birding Ecosse, with a full diary and lots and lots of fantastic birds being seen. Below is a very abbreviated blog on a day spent with Tom and Grace, a lovely couple from California. The sun shone down on us as we set off to the West Coast of Scotland, I had little success in convincing Tom and Grace that the weather was always like this in Scotland! The beautiful weather showcasing the absolutely stunning scenery that Scotland has on offer.
Arriving at Gairloch we were soon boarding the Starquest and heading for life on the ocean waves looking at some seabirds.
Black Throated Diver were soon on the list along with Black Guillemot, Common Guillemot and Puffin. Grey Seals had hauled out onto the nearby rocks and sat watching us pass by at close range. Ian the skipper kept us well informed with a running complimentary of some absolutely amazing facts and added to the whole experience of the day. The highlight for me however was the Great Skuas (Bonxies) that approached to arms length when tasty tit-bits where on offer.
It was a brilliant day out and hopefully Tom and Grace have taken some nice memories home with them.
Monday 28 and Tuesday 29 April 2014
So much for summer in the Highlands!!  Arriving at the Grant Arms hotel to pick up Michael it was, how to say, a pea souper!! Straight to Loch Garten to pick up the main species for the next two days, the Capercaillie.  Paying our money we managed to secure a great spot at the windows,only to be confronted by an even denser fog outside!  Even at this early stage we decided to cut our losses and headed off to a different location.  Unfortunately this also drew a blank, but still gave Michael a lifer in the shape of a stunning male Crossbill, however  Strike out on Capercaillie on day one ! However all was not lost and soon we were sitting on an ever improving, fogless local grouse moor and as expected the wee beauties were performing very well indeed! Great views of a single Red Throated Diver were also gained at this location. Next and final stop was the usual Cairngorm, for the Ptarmigan, a bird that even Michael admitted was not even on his bucket list. Queue the usual "you've just missed it!" although Michael did get a very brief glimpse of a male as it disappeared behind a hillock. Taking the attitude "expect the unexpected" I started scanning the opposite way from the rest of telescopes, and before long BINGO a male Ptarmigan pressed hard up against a rock on the Hillside.
So that ended my first morning, I hadn't planned on going out tomorrow, but I really don't like being beaten so arranged a couple of hours first thing. Tuesday was a massive improvement weather wise so yet again off to Loch Garten.  However once again it was nil, nada, zip, nul on the Caper front, seemingly they are down to one male at this lek.  So as way of consolation he headed to a local Black Grouse lek and Michael Picked up life number three with the Black Grouse, they were showing very well and we had the added bonus of seeing the males depart, en-masse from the lek area. So although no Caper, it really was a briliant couple of mornings, and with scenery like the picture below, who can be too upset!
Thursday 24 April 2014
It was a civilised start today as I turned up at the Grant Arms Hotel at 0800. Graham and Marjorie were ready and waiting, so soon we piled into the car (yes, sorry Graham it was a Ford)  and were heading off to the local Black Throated Diver Loch. What I didn't know at this point was that the Divers were one of todays must see birds! Arriving at the Loch the weather was perfect for Diver watching with hardly any waves on the surface, the birds were soon located very close to shore, and as we stood in a parking place on the roadside watching them through the scope, they decided to swim even closer to check us out!! A bonus for the visit was an Osprey plunge diving right beside the Divers… only in Scotland!
Heading over the moors the weather forecast looked to be spot on, the top of the mountains were shrouded in cloud but the weather looked to be clearing up, a quick change of plans (one of the many benefits of working on small and bespoke tours) and we were off to Findhorn Valley. Once again the usually fail safe land of the eagles drew a blank, however brilliant views of Common Buzzard (two very dark birds had the heart rate raised for a few seconds) Osprey, Peregrine and Wheatear once again compensated in some small way.
Onto the Grant Arms own special hide, tucked away on a lovely Highland trout Loch, for the beautiful Slavonian Grebes, only two birds were present today, but both seemed to be settling in nicely.
Not the most technical perfect of pictures, I just really liked the sparkling water surrounding the bird! And to prove that Scotland does get sunshine (sometimes!) After a nice lunch in the hide (where I saw the world smallest coffee cup, three straws anyone?) it was off to Cairngorm once again. The snow is melting really fast and the numbers of skiers had dropped off markedly. It was a nice morning on the viewpoint and soon a male Ptarmigan was located, in a  "where's wally" type moment once again the birds were high up to the right of the viewpoint, and were definitely in "scope required" territory! A nice drive back along the forest roads alongside Loch Garten we then stopped at "Crossbill corner"  a Chaffinch held centre stage for a short while before "tchuup tchuup tchuup" a fantastic male Crossbill popped into view right in front of us! Last call of the day was a leap of faith to see if the records were indeed correct and Black Grouse go back to lek later on in the day, so using Graham and Marjorie as Guinea Pigs we decided to try, and by jove they were correct! Once again viewing from a safe vantage point, we observed the males going through their routine, if anything they were even more boisterous than in the morning leks. And so that ended the tour, Marjorie secure in the knowledge that an new I-pad was heading her way (wink wink) and Graham knowing he was not to do the trip advisors report on the days outing. Once again a great day in fine company with many a tale told. If only life was always like the last two weeks it would be a happier world (well for me anyway!)
Wednesday 23 April 2013
The alarm went off early today, but it is amazing how easy it is to get up when you have a day doing what you love ahead! Outside the hotel at 0630 Graham and Anne were up, ready and raring to go! So off to the Black Grouse.
Today there were nine males and one female on show, a nice spectacle. Leaving the bird to get on with their courtship I always take a speculative drive through the wooded roads near to Nethybridge in hope of a chance encounter with a Capercaillie, and today…… sucess! A beautiful female was sitting on the road side and allowed prolonged views through the cars windows (first rule in the Caper Handbook "stay in the car"  the birds are not spooked by a car, they are with a human form though! The bird had an amazing cinnamon  colour to the face and upper breast. A stunning looking bird! Elated with this sighting it was back to the hotel for breakfast. With Anne and Graham fed and watered it was off to Slavonian Hide, once again three Slavs were on show, the water was flat calm and the birds looked beautiful in the sunshine.  A male Goldeneye also looked spectacular in the full sun. Next stop, back on the train up Cairngorm. Arriving at the viewing platform two people informed me they had been searching for an hour and three quarters with no sign of Ptarmigan….. no there was a challenge!! 10 minutes later we were all looking down the scope at a fine female Ptarmigan!  Proving once again there is no Dross etc etc!! A male was also soon located, but he was a lot harder to see.  We only had one more grouse to see and that, I knew was a banker! Back at the car park and enjoying a nice coffee and chocolate biscuit we heard "goback goback goback" and after a brief search a male Red grouse popped into view!  All four UK grouse before mid-day an brilliant record!
Final stop for the day was a local Loch, home of some Black Throated Divers, after all the fisherman disturbance over the Easter weekend it was comforting to pick up both divers at the far side of the loch, they are absolutely stunning birds, the Red Throated Divers were however not present today, probably off fishing! That ended a great morning with Anne and Graham, it was nice to guide people from my local area and to catch up with news from all my old stomping grounds.  All that is left to say is Merry Christmas and Happy Birthday Anne and Graham!!
Monday 21 April 2014
I knew the day was going to be good when I encountered two male Capercaillie on the road leading out of my village, stunning views and nice to see the birds still in the area, this is the first time I have seen them this year. Picking Steve up at the Grant Arms Hotel we were soon watching 8 male Black Grouse lekking on a remote Scottish moor, calling curlews and lapwing completed the scene and a Short Eared Owl quartering the same field as the grouse was a great added bonus, it did however make me think about the future of any Black Grouse chicks that might hatch this season! Next port of call was a small and beautiful Scottish Loch and serenely floating on the surface were three Slavonian Grebes, one more than last year.  Common Sandpiper buzzed around the waters edge their calls adding to the summer feel of the day. Flushed with success it was onward and upwards to the Cairngorm, on the trip up on the Funicular a male Ring Ouzel flew in and perched on a fence post a great bonus bird for the days tally.  At the top viewpoint the first thing that was obvious was the severe drop in temperature, it was baltic.  It took a while but soon we were watching a single Ptarmigan outlined against the skyline, mission accomplished and we were soon heading back towards the car.
Next stop on this "big day" was to be the Findhorn Valley, today the eagles were to prove difficult, infact impossible and none were seen all day, however there were plenty of other species to keep the list going, Wheatears have arrived in force, Willow Warblers were calling along the whole of the valley and Common Gulls were back on their nesting territories. A pair of Peregrine circled overhead and a Buzzard "meeowed" nearby. With the tally growing nicely it was off to another Scottish loch where we picked up Black Throated Diver and feeding Osprey, a brilliant couple of birds to add to the list, and this was en-route to the coast! Lossie Estuary provided a mixture of birds including Redshank, Grey Heron, Teal, Great Black Backed, Black Headed and Herring Gulls, not wanting to waste any time we headed off to Burghead. Common Scoter are still in good flocks just off shore and a Long Tailed Duck just off the harbour entrance gave Steve some great photo opportunities as a Rock Pipit made a brief flyby appearance. Final stop of the day was Roseisle. The Velvet Scoters seem to have departed for the summer but a full winter plumaged Red Throated Diver soon went on the list and the last bird of the day was a superb Crested Tit feeding high in a beach side pine tree. All in all a great 12 hours in the field with a total of 74 species seen, but it did prove one thing more important than the bird numbers…. that is Steve's jokes are even worse than mine!  Thanks for a great day with some full on birding Steve!
Saturday 19 April 2014
Part 2
It was another beautiful morning in the Highlands as I picked Daryl and Eleanor up from the front door of the fantastic Grant Arms Hotel in Grantown on Spey, I had a feeling today was going to another great day. Heading off to a local Black Grouse lek, we were soon watching 8 males and 2 females doing what Black Grouse do best.
What was nice (and quite funny) to see was when the two females got bored and left the area, just how quick the males aggression subsided and they all calmed down and chilled out together, it seemed as if they all agreed "right lads they're gone lets get the footie on!"
Red Grouse, Curlew, Lapwing and Meadow pipits where all calling and buzzing around the area. A sunny morning on a Scottish Highland Moor, what a fantastic way to start the day! Time was a major constraint today, so after a lovely breakfast in the Grant Arms Hotel it was off to a nearby Diver Loch, Red Grouse were all over the place, even from the areas they usually are absent from! It was also nice to note that the Common Gull colony seems to have expanded this year, but it was also noticed that there are no Black Headed Gull this year. The Loch was looking stunning in the morning sun, but the place was absolutely choc a bloc with fishermen, one party alone had eight people!  There was also no Divers, neither Red or Black Throated and I'm afraid if this amount of fisherman disturbance carries on then it may be the end for these beautiful birds on this location. Heading towards the hills one of favourite views was in top form today,
Strathdearn produced a hand full of raptors in the shape of Peregrine, Buzzard and Kestrel, however the "big yins" were absent and we had only half an hour to watch, one possible Goldie peaked over the skyline for a second but then disappeared never to be seen again! A female Wheatear and a singing Ring Ouzel were some consolation though. It was however time to leave and get Daryl and Eleanor back to the hotel so they could continue on their "Grand Tour of Scotland" with a next planned stop in Breamar, it would have been nice to have spent more time in the valley looking for Eagles, then to show them the beautiful coastline Moray has, never mind hopefully they will return in the not too distant future Having said farewell to Daryl and Eleanor I made a lonely trip back across the moors, when I decided to go check out my local Ospreys, it was a great feeling seeing both birds back on the nest, although it did cross my mind that the Loch Garten and Loch of the Lowes birds were both on eggs, but these birds were not looking anywhere near that. Then I noticed that the two original birds that had been on the nest had returned, however were they the same birds? On my arrival one bird had an aerial prominently protruding  from its back, however the birds I was looking at now, neither had aerials?!
So ended a most enjoyable couple of days birding, especially being able to show two lovely Canadians the beautiful Scottish Highland in fantastic weather.  Scotland you done yourself proud!
A big thanks to Daryl and Eleanor for booking Birding Ecosse and making the last two days so enjoyable.
Friday 18 April 2014
  Part 1
The day started well with an absolutely cloudless blue sky and the distant Gairngorms looking pristine and crystal clear, it was going to be a good day! Meeting today's victims  clients Daryl and Eleanor, who had travelled all the way from Alberta, we were soon on the road and seeking our first birds of the day. Stopping off at the usual Dipper spot, we were not to be disappointed as one bird perched on a rock right below the car park, a great start.  A quick jaunt "off piste" netted us Curlew, Oystercatcher, Lapwing and a breeding colony of Common Gulls. Back on track we paid a visit to a local private lochan, and were able to see two Slavonian Grebes at Fairly close range, it must be stressed this is a very rare bird and any observations should be done at a very safe distance so as to minimise disturbance, especially at this delicate time of year.
Time was pushing on so next stop was Cairngorm, it was looking stunning as we drove up the approach road, but I was mightily surprised when I arrived at the top car park to find that the main car park was full and we were directed to the lower overflow car park! A crowed ride in the funicular to the top station and out onto the viewing platform, and this is the view that greeted us:
I cannot remember the last time I stood on the viewing platform when it was flat calm! It was even warm in the sun!
There was a few walkers in the area and a very low flying helicopter buzzing around, so prospects of Ptarmigan was not looking good, however a slow scan of the ridge to the right of the viewpoint soon produced a single male outlined against the blue sky! Bingo!! The bird stayed in view for a good 10 minutes before being lost in the scree slope. Back down to the even more packed out car park,and as we were having a nice coffee Daryl  spotted a small black and white bird sitting on a sign, as we went to explore a Pied Wagtail flew up and made itself known! However as we were watching this, he also picked out another Black and White Bird, this time in the shape of Ring Ouzel!! And not just one, but two males where at very close range.
So with that the tour was over, a great morning out showing some lovely Canadians the beautiful Scottish Birds, Scenery and weather (who said it always rains in Scotland?)
And best of all?  I'm back out with Daryl and Eleanor tomorrow morning……… Black Grouse and Eagles await!
Tuesday 15 April 2014
Sacré bleu!
A trip to Loch Flemington without seeing the American Coot!!  Reading through the literature though this seems to be following the pattern of the last sightings where the birds disappear April/May time only to reappear the following winter, if it has finally departed then here is hoping it returns at Christmas….. it was a nice bird to have in the area. At least 35 Scaup and three full plumaged Slavonian Grebe at Alturlie.
Thursday 10 April 2014
Birding Ecosse Mid Week Special – Part 2
"She was only the Vicars wife but………"
The day dawned early and overcast, Nigel was present, standing smartly to attention outside the hotel on my arrival, Jackie (the confirmed birdy non birdwatcher was MIA!) so the two "proper birders" headed out to a local Black Grouse Lek. It was nice to see nine male Black Grouse lekking away, still separated by the fence as they had been last week. What was not so nice to see was the heavy  rain showers approaching from the Southwest! Having filled out binos and scopes with stunning views of the Grouse it was time to head back to the hotel and fill our stomachs with a glorious breakfast at the Grant Arms Hotel in Grantown on Spey (home of the BWWC) It was nice to find Jackie already downstairs and awaiting our arrival and I think that look in her eye showed we wished she had come out for the Grouse (or maybe not) Next stop was Avielochan, where the comment of the weekend happened.  Sitting scanning out over the lochan Nigel and Myself were bemoaning the lack of Slavonian Grebes, putting it down to being too early in the season, when birdy "non-birder" Jackie called out  "there is one!" our reply "one what? where?"  Jackie (pointing one hand at the poster in the hide, and one hand in the direction of the water directly below the hide ) One of THEM, THERE!! I must admit to expecting to see a Dabchick surface in the designated area, but no! A full plumaged Slavonian Grebe bobbed into view no more than 30 feet in  front (edit: Olga please note!) So a big well done to the now becoming very birdy non-birder! Now on a roll it was onwards and upwards to the Cairngorm.  The snow had melted substantially since last weeks visit and the viewing platform was nearly all clear, but good grief it was cold!!  One male Ptarmigan was seen very briefly before disappearing behind the snow fences, and then it started snowing, so a visit to the other Ptarmigan (the coffee shop) was undertaken.  Just as we were thinking of heading out again, Nigel Picked up two birds flying down the slope. Returning to the car park it was amazing the difference in temperature and now buoyed by our success it was off Eagle watching! Arriving at the Findhorn valley we bumped into a couple we had met yesterday at Burghead, they had been in the valley all morning and not had a snifter of any raptors.  Not to worry though I said it was a perfect Eagle day so we would push on regardless, and boy are we glad we did! Arriving at the top car park we stood and talked to a couple of people that had been waiting a while, then something caught my eye, right above our heads, looking up, a magnificent juvenile White Tailed Eagle soared past, once again getting mobbed by a Peregrine. The Eagle would roll 180 degrees onto its back with talons outstretched towards the Perg, it would then roll over back to level flight, completing a full 360 turn! A truly fantastic sight!  Just as this bird disappeared from view I picked up two large raptors heading from the top of the valley………. 2 Golden Eagles passed right in front of us!! One bird disappeared across the mountain, but one bird tracked down the whole length of the valley, absolutely brilliant and just proving the Birding Ecosse motto "There is no dross with Birding Ecosse" A scenic drive over the Farr Road held the usual Red Grouse, not so numerous or close to the road as last week, but then our third Golden Eagle for the day appeared and tracked parallel to the car for a few minutes. Last stop of the day was Loch Ruthven, this is a beautiful little reserve and gave the three of us a promising start when Nigel picked up an Osprey hanging on the wind just preparing to dive, what a brilliant bird they are! At the hide a pair of Slavonian Grebes where doing a magical disappearing act right in front, before finally submerging never to be seen again.  A great way to end a great couple of days birding with Nigel and Jackie! It was now time to head back to the hotel, a Gala Meal was planned for the evening so sparkly frocks had to be ironed and stilettos polished, so that was Nigel set, I have no idea what Jackie was wearing! Thanks to the both of you for a "lively"couple of days birding, look forwards to your next visit North.
Wednesday 09 April 2014
Birding Ecosse Mid Week Special – Part 1
Well today was a first for Birding Ecosse, a non-birder on a birding tour……..however said non-birder knew an AWFUL lot about birds as she was to reveal throughout the day! (not to mention being caught  1. Reading through the Crossley field guide comparing divers 2. Saying she was looking forward to writing the  end of day list ( perhaps a slight exaggeration) 3. Admiring the Swarovski binoculars and hinting heavily that they would make a nice Christmas present (once again perhaps a slight exaggeration) However all this was unknown to myself as I picked Nigel and Jackie up at the Grant Arms Hotel at just before 0800. First stop of the day was for the Dippers at the local nesting site, the bird was showing well along with local Oystercatchers and Pied Wagtails.  First nice birds under our belts next stop was a local grouse moor and inland Loch.  The Red Grouse were showing off right beside the road, the males in absolutely stunning condition.  The newly returned Black Throated Divers glided serenely at the far side of the loch, showing well through the Swarovski Scope. More Red Grouse called noisily all around us, and Mistle Thrush and Siskin fed in the nearby heather. At the top end of the Loch we stopped for a brief scan and were pleased to pick up a single Red Throated Diver. Excuse the quality of pic wind/light/exposure gave very poor condition for digiscoping.
It was nice to the Common Gulls back on their breeding colony, and unusually there were no Black Headed Gulls present. Next was a nice scenic drive to Loch Flemington, taking in some outstanding Scottish landscapes and giving Jackie a break from solely birding, Red Legged Partridge were added on this leg as was a huge female goshawk.
The American Coot played hard to get today, it was in fact to the bushes and reeds to the right of the parking space, Nigel picked it up as I was making the coffee.  Thankfully it showed well and ultimately swam across the Loch right in front of us.
Wednesday 02
 April 2014
Brilliant views of a redhead Smew on a small lochan on Dava Moor, grid ref  NH990393.
Birding Ecosse  - Long Weekend Special
Friday 28 March to Monday 31 March 2014
Part 2
Monday 31
Well today was the last trip of the weekend, and thankfully the cloud base had lifted and it was onwards and upwards to the Cairngorm, and what a way to end the weekend! The Funicular was nice and quiet and arriving at the top station the view point was completely empty. Looking out with my naked eye I could make out the distinctive white blob of a Ptarmigan, perched on the skyline. Fantastic!! Getting the scope set up it was absolutely classic Ptarmigan time,a male and three females all came into view and then one by one approached the viewing platform! Frame filing views through the scope! It doesn't matter how many time I see these birds I always find them captivating!
Ans so that ended the Birding Ecosse Long weekend special, Thanks go to Pandora and Laurie for making it a great success and very enjoyable weekend. Totals species list for the weekend was 81.
Sunday 30 March 2014
A beautiful morning in the Highlands greeted us today, and first stop was to the feeders in Anagach woods behind the Grant Arms Hotel, target birds for this sortie was Crossbill, a lifer for both Pandora and Laurie. Arriving at the feeders it wasn't long before I heard the first "tchuup tchuup" of Crossbill, searching the high tops nothing was visible of the calling bird, until it flew off, circled the area, then landed, Crossbill style right at the top of a distant pine, in full scoping view ( thank you Mr Swarovski for making excellent optics!) Heading off bouyed by the lifer we now made off for yet another, in the shape of an American! Yes it was time for star billing "The American Coot" Arriving at Loch Flemington, the bird was visible even before I had stopped the car, and now because it is considered "old hat" the car park was deserted, we had the bird all to ourselves!
The bird was by itself, obviously the recent match made in heaven with a local Moorhen had fizzled out and the bird had returned to single life!
An immature Cormorant was very confiding and gave some great up close shots as it tried to preen "those hard to reach" places!
Then disaster struck! It was now we realised we had failed to pick up Laurie and Pandoras packed lunches, however it also gave me the excuse to visit a very nice local cafe at Nairn.
Out on the Moray Firth we had Black and Red Throated Divers, Common Scoter and Long Tailed Ducks and two close in Red Breasted Mergansers, when these birds are seen close up they really are beautifully marked.
Heading along the coast to Burghead we had good views of Velvet Scoter, Razorbill, Lesser Black Backed Gulls (these are summer migrants to the area, and my first of the year) Gannet, Curlew and Knot. Stopping off en -route at a local pine wood, we were delighted to find the second male Crossbill of the weekend, this one was closer to us and posed for a considerable time to allow some records shots.
Heading back to the hotel we drove past a fantastic Scottish lost, complete with ruined castle in the middle, it was here we picked up both Red and Black Throated Divers, all in full breeding plumage!  What a top way to finish todays tour!
Saturday 29 March 2014
It was an early rise as we headed off for a local Black Grouse Lek, a new site for me very greatfully received from John Poyner of Highland Nature. A nice gesture and shows the camaraderie between some local guides. At least 8 males where on lek and showing very well, and what is superb about about this location is that you are a safe distance from the birds but still get amazing views. No females were noted on this occasion though.  Curlews where in full song display, their bubbling calls filling the air the nearby hunting kestrel and the tseeepining Meadow Pipits completed the "moorland in Spring" feeling. It was then back to the Grant Arms Hotel in Grantown for a fantastic cooked breakfast before setting out once again. A quick stop off at the Hotels bespoke hide at a local fishing loch it was soon obvious that the Slavonians had not yet returned, the water in their breeding area was also fairly high. We did get some stunning views of male Goldeneye and Little Grebes in full breeding plumage, they are cracking wee birds! Next stop on todays tour was the beautiful Strathdearn Valley in search of Raptors, first surprise of the day was a very very probable White Tailed Eagle adult, fairly near to the valley entrance, much lower down that I have experienced before.  I have said probable as it was a very quick view, of a massive raptor being mobbed by buzzard, very broad wings, but the key factor was it looked to have no tail. But an adults white tail would have blended perfectly with the light grey sky behind. I will however put it down as a probable! Arriving at the top car park, as we stopped for a coffee, a had a casual scan towards the top of the valley, three birds appeared from behind one of the crags, two Buzzards and….. one Golden Eagle! All three birds were heading straight for us, the Buzzards drop off and returned to the crags but the Eagle kept approaching, and kept approaching, and kept approaching, right over the top of the car park! Absolutely stunning views and a great way to finish this part of the tour. Next stop Farr and Loch Ruthven. The Farr Road didn't disappoint with the birds, some great views of Red Grouse  gave Laurie some great photo opps. Arriving at Loch Ruthven we were greeted with the saying that all birders dread "oh you've just missed……." in this case it was "oh you've just missed two displaying Goshawks at the far side of the loch" grrrrr! The Slavonians where however were a nice consolation and the actual reason we had visited this reserve! The day ended with a nice scenic drive back across the Farr road, back to the hotel and once again a few libations and run down of the birds we had seen today.
Birding Ecosse – Long Weekend Special
Friday 28 March to Monday 31 March 2014
Friday 28 March 2014
Today was bright but hazy, with the Mountain tops shrouded in clouds I decided today we would head North, so at 0800 on the dot we headed for Portmahomack and Tarbat Ness. Stopping off at a local Highland river we quickly connected with Grey Wagtail and Dipper, the day had started well. Arriving at Portmahomack the weather was ideal for scanning the bay, a male Velvet Scoter was showing well not far off the harbour wall, Long Tailed Duck, Slavonian Grebe, Common Eider, Red Throated Divers and Cormorants were all also showing well in the area. Scanning over the rocks, a small movement caught my eye, quickly turning the scope to this point we were soon looking at a flock of about 20 Purple Sandpipers along with a nearby group of Bar Tailed Godwits and Knots, after a coffee and biscuits  it was time to leave this idyllic spot and head for Tarbat Ness Lighthouse Arriving at the lighthouse car park we noticed two things: one was the amount of Yellowhammers at the feeder and two the large grey cloud that was heading straight for us, the heavens opened and we remained in the car for twenty minutes until the shower had passed, and luckily this was to be the last rain we were to encounter, however the weather had not finished with us for the weekend! Walking to the point Gannet, Fulmar, Kittiwake, Razorbill were all quickly notched up,a nice bonus was two Black Guillemots in winter plumage and a Red Throated Diver swam not too far offshore.
A quick stop off at RSPB Nigg Bay produced Shelduck and Pintail, the latter being quite a scarcity in the area and Nigg Being being one of their strongholds. Heading South we had a stop at Udale Bay, the tide was very far out, but a few birds were still showing very well, Teal, Wigeon, Lapwing and Dunlin all fed busily on the mud flats and a few Pink Footed Geese lounged around in front of the hide.
Heading back south we were surprised by a huge gaggle on Pink Footed Geese in a field, stopping the car to scan through the flock, Pandora had an excellent find with a single Barnacle Goose feeding with Pinkers, a great find and a great way to end day one. Over a small libation back at the hotel, we celebrated a great day in the field and looked forward to whatever tomorrow would bring. To be continued……….
Thursday 27 March 2014
The weekend started on Thursday night in the comfortable "Capercaillie Bar" in the Grant Arms Hotel, Grantown on Spey. Laurie and Pandora had already started their weekend with a productive walk around Anagach woods just behind the hotel. Catching up on all that had happened since last we met in January 2013 I gave a quick run down on what I had planned for the coming days, explaining that I would keep things flexible to allow for weather.  I bade both of them farewell until the morning and headed home looking forward to what the weekend would bring.
Monday 31 March 2014
Just finished Birding Ecosses  first long weekend special break of the season, and what a great weekend it was in the company of Pandora and Laurie. Highlights were great views of Crossbill, Red and Black Grouse, Red and Black Throated Divers, American Coot, Slavonian Grebe, Golden Eagle and Ptarmigan. Full report will be posted in the next few days, but to keep you going here are the Ptarmigan from today.
Monday 24 march 2014
Brilliant news from RSPB Loch Garten with the return of EJ their female Osprey, good luck to all involved in the forthcoming season. Please check out the live web cam and give your support to the RSPB. http://www.rspb.org.uk/reserves/guide/l/lochgarten/abernethyvideo.aspx  
Sunday 09 March 2014
0830, Sunny and Mild (still need a fleece though!) On the way to the reserve, Spotless Starling calling from the roof tops, nice call a piping "huueeeeet" call.
Collard Doves, 15 x Monk Parakeets, Gannets, 15 Mediterranean Gulls flushed from the canal by a fishermen, there are a lot of fisherman! White Wagtail, Black Redstart, many Serins, male and female Kestrel, Sardinian Warbler.
0904 At Bridge leading to reserve, met up with local birder and expat Ted Lord (Tedo to give him his Spanish name) Ted had been my birding buddy for the last two days after a chance encounter on my first recce trip on Friday afternoon, great company and a veritable fountain of knowledge for Guadalhorce.
Arriving at the Laguna de la Casilla hide, birds present: 9 male 1 female and 1 Imm Male White headed Ducks, Moorhen, Coot, 1 Flamingo imm roosting.  I then met another local birder and ex pat Andy Paterson, he runs the blog  "birding the Costa" excellent resource for anyone thinking of visiting the area. One of Andy's friends pointed out two female Black Headed Weavers across the far side of the lagoon, I would definitely have overlooked these birds, and then another incredible bit of birding when the Spanish Chap pinged a Bluethroat call, and lo and behold I spotted the Bluethroat at the bottom of the reeds. Two great birds in the space of two minutes! 1011 Rio Viejo Hide. Curlew Sandpiper, Little Stint, Little Ringed Plover, 2 Black Tailed Godwits, 2 Greenshank, Cettis Warbler  (calling) then another highlight was next when two Hoopoes flew in a landed right in front of the hide!  Then a Crested Lark scuttled out of the reeds and burst into full song!  I love birding in Spain! A Booted Eagle took off from nearby dead tree.
Laguna Escondida: White Headed Duck,Crag Martin, Sand Martin, Pochard 1430 Back to my favourite hide, the Laguna Grande. Immediately a top notch bird for me, a Cattle Egret.
2 x Flamingos, Yellow Wagtail, Kentish Plover, Little Ringed Plover, Black Necked Grebe, Common Sandpiper.
Common sandpiper was "seen off" by Kentish Plover that look like they are nest prospecting on the small island in front of the hide. 2 x Avocets.
And that ended another brilliant day at the Rio Guadalhorce, and my last day on the reserve.  However I am already planning my next trip next year, perhaps two or three weeks later to catch more of the summer migrants. Adios Amigos!
Saturday 08 March 2014
Today started off very well, with a mini sea watch off the hotel balcony, Gannets, Lesser Black Backed Gulls, Yellow Legged Gulls, 3 Med Gulls and a Cormorant started the day list off well! A lovely walk along to the reserve from the hotel netted Spotless Starling, Kestrel, Sardinian Warbler, Serins by the bucket load (I love seeing and listening to their song and display flight) Pochard, Shoveler, Cormorant, Grey Heron and Little Egret.
0950 Rio Viejo Birds Present: Black Winged Stilt, Redshank, Little Egret, Teal, Little Ringed Plover, Dunlin, Greenshank, Swallow, Crag Martin, Crested Lark, Serin, Pochard, White Headed Duck, Booted Eagle, Moorhen, Black Tailed Godwit, Little Stint, Sanderling, Sardinian Warbler, Blackbird, Common Snipe. At seawatch point: Yellow Legged Gulls, Mediterranean Gull x 3, Cormorant, Avocet.
1400 Escondida Hide:  Sardinian Warbler, 12 White Headed Duck, Pochard, Meadow Pipit, Swallow, Crag Martin, Serin and Coot 1421 Laguna Grande: What a fantastic bird hide, with plenty of action going on right in front.  Birds present: 2x Greater Flamingo immature's, Kentish Plover, Little Ringed Plover, Black Winged Stilt, Dabchick, Black Necked Grebe, 2x Avocet.
1413 Laguna Grande: Cattle Egret (one of my target birds and a lifer!) gave a flypast, yellow bill and small size. Black Headed Gulls.
Heading back to the hotel I noticed a gull sitting on the river bank, getting the scope on it it turned out to be lifer number 2 for the day, an adult Audouin's Gull, a really smart "clean" looking gull Red Bill and dark legs. In flight the white wing mirrors where restricted to the trailing edge of the wings, giving the wing tip a very dark appearance.
Final treat for the day was a Kingfisher perched on the rocks at the river mouth, a great end to a fantastic days birding.
Friday 07 March 2014
Hola!
This weekend was a small gift to myself. I decided to take off for a few days for some sun, swamp and birds! A very indulgent three days were in front. Flying out from Glasgow on a cold wet morning I landed at a sunny and warm Malaga, and a short taxi journey saw me at my hotel in Gaudalmar just a stonethrow away for my weekend destination, the Rio Guadalhorce bird reserve. So within four hours I swapped our UK Starling for Spotless Starlings and Feral Pigeons for Monk Parakeets!  Roll on the weekend. After the painless checking in process I headed out for a small recce walk to the reserve. It really is a fantastic place, a ten minute walk from the hotel sees you on the edge of the reserve, the Canal had breached through to the sea so to gain access it would mean a walk along the canal to the main footbridge onto the reserve, no problem with that though as there was plenty of birds to keep me entertained. It was a great initial visit and what was planned as a short walk turned into a four our birding afternoon. Serins were absolutely everywhere, the males in display flight, sitting singing on small bushes and flashing their bright yellow rumps.
Goldfinches where also seen in very good numbers, the birds here seem to show a lot more yellow on the wings than UK birds, Monk Parakeet buzzed about the whole area, their call were to be a continual pleasant background noise throughout my visit.
I had target birds I wanted to connect with, White Headed Duck, Purple Swamphen and Audouin's Gulls. So I found myself at the hide we had visited last year, with Josse Yague from Park Nature and was very pleased to connect with some White headed Ducks straight away.
Tired, thirsty but extremely happy I returned to the hotel, looking forward to heading out in the morning for a full day, with full birding kit, on this fantastic reserve.
Thursday 27 February 2014
The day started very early on a very chilly Tulloch Moor, once again the weather beat us in the Black Grouse lek with the lower temperatures stopping the males displaying, every now and then a faint bubbling call could be heard but remained stubbornly out of sight, maintaining Birding Ecosse's ethical approach we did not attempt any further searching and left the birds to carry on their display undisturbed. Heading towards a local Capercaillie sight we had superb views of Crossbill  feeding at the top of some larch tree's, the grouse were not on our side at all today as the Horse of the forest didn't make an appearance either! Cutting our losses we headed up to the Findhorn Valley in search of big birds!  And here our luck changed! Raprtors were all over the place!  Red Kite at the beginning of the valley closely followed by a male and female Kestrel. At the top of the valley, and just when Olga was slipping into "Slavonian Grebe" mode, I noticed a large raptor break the skyline, as it approached it became clear we had a Golden Eagle and it was heading straight towards us.  It gave stunning views as it flew down the side of the valley, keeping close to the hillside.  David managed to get the following stunning shots.
As the bird glided overhead it was immediately set upon by a Peregrine, it buzzed it incessantly until the Eagle had left the area and headed back down the valley, where it was then set upon by a Buzzard and two Ravens!  Then the surprise of the day, the Eagle then turned around and came back for seconds!  Once again it gave stunning views as it glided back up the valley side before finally disappearing over the ridge for the last time.
A trip over the Farr Road (or Slavonian  Road as it had been christened by Olga) produced very close views of Red Grouse, one male in particular was in supreme form and was actively courting a nearby female, his red eye wattle appearing almost luminous in the in the dark heather and yet another surprise raptor as a female Hen Harrier circled over the moors, gained height and disappeared North, a nice bird to get for the day list.
Loch Ruthven was being whipped up by the gale force winds and looked more like the Moray Firth than an inland Loch! The recently seen Slavonian Grebes had either left for a more sheltered lochan or were seeking refuge in the reeds.  A few brave Goldeneye tried to put on a show, but they to were defeated by the wind and waves!
Returning to the hotel for an "apres bird" drink,  we tallied up our totals for the two days and came to the toal of 76 species seen and two heard, not a bad haul especially with the windy conditions.  It was a great way to get the 2014 all inclusive holiday season started!
If this had whetted you appetite why don't you check out our all inclusive mid week and long weekend specials, something to suit all tastes and pockets.
Wednesday 26 February 2014 – Part 2
Arriving at Roseisle and taking up my usual birding position overlooking Burghead bay it was obvious that the sea had become somewhat choppy and that spotting the ducks may be  slightly more difficult than normal.  After a brief search we managed to pick out some male Velvet Scoters, initially these were at distance but during our time here they drifted closer to us, allowing Olga and David to pick out the I.D features of the white wing panel and the white "coma" under the eye, a beautiful duck close up.  We also managed fantastic views of a Slavonian Grebe ( to be honest it was a small black and white dot on the Horizon, but never the less a Slavonian and my target species for this area, on a more important note it gave Olga the fuel to slander me mercilessly for the remainder of their trip!)  We also picked up Common Scoter and Long Tailed Duck. Whilst we were leaving the main car park David put up a shout to "stop" and we were treated to brilliant views of a male Crossbill feeding at the top of some pines right beside the road.
Making our way along the coast the conversation changed to the usual topic of Giraffes, and on our arrival at Burghead I proudly announced that I was 100% certain we would see none of the aforementioned beasts at this location, how wrong could I be?!  And anyway who would have a Giraffe statue in their window, I ask you!! (more fuel to Olga's already inferno like fire) Sadly the Long Tailed Ducks had left the harbour itself, but were loafing around just outside the harbour wall, still giving excellent views  alongside Common Eider.  We had a quick flyby of the local Rock Pipit, however the cooler weather today meant he was not wanting to show us his display flight. Onwards to the east we set up the 'scope at a local eastuary, where the new birds for the day came flooding in, Bar Tailed Godwits, Teal, Wigeon a host of Gulls including Herring, Great Black Backed, Black Headed and Common, but the highlight was a group of 15 Snow Buntings feeding on the far bank of the river, one male in particular looking very dapper in near full summer plumage. As they daylight began to fade we headed to Loch Spynie, a great place to add a mixture of farmland and freshwater birds. Long Tailed, Great and Blue Tits entertained us on the feeders, Treeceeper allowed us some great views and a single Water Rail calling from the reeds stubbornly would not show itself so went on the "heard only" list. So that was day one finished, a soft drink at the bar in the hotel finished off a great day, roll on day two….. Would Olga take pity on the poor guide? (I think we can guess the answer to that one) Would David come onside with me? (and that one!) and would we connect with our target species?     Keep tuned for the final installment!
Tuesday 11 March 2014
Apologies for lack of post over the last few days, I have been birding in Spain! +20 Blue skies and sunshine all day long, plus some amazing birds as well!  Will be catching up with all my admin and posting new blogs and pictures in the very near future…. stay tuned folks!
Wednesday 26 February 2014 – Part 1
Today saw the start of the busy season for Birding Ecosse and was also the first in the new season of mid week and long weekend specials. My clients for the next two days were to be David and Olga from Northumberland, it proved to be a highly entertaining and informative couple of days, with lively chats on a whole host of subjects and me getting gently bullied at every opportunity. The day started well with Dipper at the usual spot at Dulnain bridge and the local moors proved a success with Red Grouse up close, and a couple of Ravens chasing some Lapwings. Heading towards Loch Flemington for the American Coot, it proved to be very very elusive and took nearly 20 seconds to find this time!  It flew out across the reeds to the willow scrub to the right of the car park area.
Having collected the Coot we set off to Nairn, to see the Brent Geese and hopefully connect with the recent King Eider. The Moray Firth looked beautiful, with Long Tailed Duck and Common Scoter showing well, however no sign of the King Eider. In way of consolation the regular Brent Geese put on a great show and a couple of Purple Sandpipers were a nice addition to the day list.
Next port of call was to be Roseisle, call back to see how we got on there!
Monday 24 February 2014
Today was a lovely spring morning again, there really is a change in the ambiance, heading towards proper spring time weather, happy days. Today's guided walk was around the beautiful Burghead, and was in company of a Birding Ecosse stalwart Robert from Nethybridge, it always proves to be an entertaining day out with him. One of the first birds to be seen was the usual Rock pipit, right beside the car park and giving great views as it fed on the wall and beach area.  This was later seen in display flight again and hopefully it will nest in the area. The harbour was quieter for ducks, with just a couple on Eiders feeding, no sign of the recent show off Long Tailed Ducks or Great Northern Diver, but with the sea being flat calm there was no real need for them to be taking shelter. Cormorants, Herring Gull and Great Black Backed Gulls were all in evidence along the harbour wall, the much overlooked Herring Gulls looking splendid in their full summer plumage (they have brown streaks on the head and darker streaks around the eyes in winter plumage giving them a "dirty appearance" I think)
Out to sea, well out to the Moray Firth, plenty of Long Tailed Ducks and Common Scoter were to be seen just offshore, and a single Great Northern Diver loafed around. Making our way to the upper viewpoint many Red Throated Diver were off the point, some in full summer plumage, whilst some still retained full winter plumage, a vast difference but really good for comparing. A single female Velvet Scoter kept her distance from the nearby  raft of Common Scoter.  Shag and Razorbill, both in full plumage showed very well just offshore.
 Turnstones, Redshanks, Oystercatchers and Curlew all fed on the rock and a flock of 6 skylarks "churrupped" over head, heading out towards the black isle.
The now set ritual of having a Birthday treat (it was my turn to be birthday boy for the second time this year) at the superb "Bothie" cafe rounded off a brilliant mornings walk, great birds and great company.
Wednesday 19 February 2014
Today started bright, sunny and mild the exact opposite to the weather forecast! So at 0745 I picked up today's willing birders Pam and Helen from the magnificent Grant Arms Hotel, home of the BWWC. On this half day tour we were concentrating on the coast, in particular Ducks and Waders, first port of call then just had to be Burghead. We were not to be disappointed! The usual suspects were loafing around, the Long Tailed Ducks looking simply stunning in there fine winter plumage, the male Eiders "making eye's" at the lovely female Eiders, and luckily the Great Northern Diver was feeding at very close range, giving some fantastic photo opportunities.
Spring was most definitely in the air, with the cooing of the Eiders, House Sparrows nest prospecting, Shags sporting their full summer crests and best of all Rock Pipits in display flight, roll on the summer! Other birds in the area, Bar Tailed Godwits, Black Headed Gull, Great Black Backed and Herring Gulls, Turnstones, Common Scoter, Redshank and Oystercatcher. Heading to the High viewpoint we noted that the wind had started to increase substantially but it was still bright sunny and mild. Nice views of Red Throated Divers and Common Scoter were had, but a smaller duck has given me a furrowed brow and has sent me to my reference books to no avail, even Bob Proctor my local BTO rep drew a blank (thanks for your input Bob, it was appreciated) So if anyone has any suggestions please feel free to get in touch!
After Burghead it was off to Hopeman, the weather was still with us, but the wind was even stronger.  Burghead held it's own smaller flock of Long Tailed Duck, these birds seemed to be feeding more than the Burghead birds, Redshank and Turnstones were also feeding on the beach and harbour walls. Over a coffee we watched a Razorbill fairly close in, however we missed out on the Purple Sandpipers, surely they have not headed North already? Last port of call was Roseisle, by this time the wind was at gale force and the water was now decidedly choppy, Common Scoters were bobbing around like corks and the target bird Velvet Scoter was playing hard to get, until thankfully two males popped up over the Surf (no not Surf Scoter) and gave distant but distinct views. A very successful morning in lovely company, Helen proving that not all Physics Teachers are dragons!
Tuesday 18 February 2014
Today was to have one recurring theme, lets see if you spot what it was! The day dawned in a Dark and wet car park in Beauly in the beautiful Scottish highlands, the low cloud and heavy drizzle only adding to the atmosphere. I was here to pick up Karle a returning client who was up on holiday with his family (Hello Sarah and Orson) and was out to get his Highland Bird Fix. The birding day started at Loch Flemington,( it was dark and wet) with the ever elusive American Coot (probably one of the easiest rarities you will ever hope to see!) it took an agonising 5 seconds to pick the bird out in it's usual place.  Please note I still have not seen this bird in sunshine so the pictures are still of poor quality!
Having his lifer in the bag, we headed off to Nairn, when we arrived it was dark and wet and the Moray Firth was surprising rough, however it soon provided us with some nice birds, Pale Bellied Brent Geese, Long Tailed Duck and Common Scoter, there were some Common Eider further out but unfortunately no sign of the recently reported King Eider. However a winter plumaged Tystie (Black Guillemot) proved a nice added bonus.
Heading to a dark and wet Burghead, the first birds to be seen were a Great Northern Diver sailing around in the inner Harbour surrounded by Long Tailed Ducks and Common Eiders, it provided fantastic views as it swan in front of the car and out into the Moray firth, at it's closest a mere 20 feet away.  I would have loved to have some digiscoped shots however other people where watching and taking pics from their car and I would have undoubtedly spoiled their enjoyment of this stunning bird, so I waited until it was out to sea before setting up my kit.
The Long Tailed Ducks once again stole the show, and is a highlight for anyone visiting the area.
And as an added bonus, today we had a couple of Female Red Breasted Mergansers lounging around.
Red Throated Divers and a nice flypast of five male Velvet Scoter rounded off a successful visit to Burghead Next stop was a dark and wet Lossiemouth, the tide was ideal and scanning across the far side of estuary produced Bar Tailed Godwit, Ringed Plover and a nice sighting of two Snow Buntings.  There was not the usual amount of Gulls in the area so we didn't pick up the target bird of little gull that had been reported on Birdguides recently.
A quick dash to Loch Spynie gave us Water Rail and Long Tailed Tit, it was nice to see the Herons had returned to the Heronry behind the hide, was it me or did the trees look sparser this year? You don't usually get such a good view of the nests. It was of course dark and wet, but the hide provided a nice respite from the elements.
Heading Back towards Inverness we stopped off at a dark and wet Roseisle, where we connected albeit very briefly with the target bird for this location, Slavonian Grebe. One bird was present and seen just prior to it diving, it was never relocated! More good views of common and Velvet Scoter was nice.
Finaly we headed inland, where we did have a change in weather (hurrah) it was dark, wet and misty! (booooo)  On this section of the trip we added Red Legged Partridge and Red Grouse (heard) but  by this time light was fading and the rain and mist were both increasing!
Final stop was back at Alturlie, where as the last glimmer of daylight faded into a dark and wet night, we saw hundreds of Pink Footed Geese lift from their feeding fields and stream low over head to their roosts on the Black Isle, a beautiful sight and a great way to end a brilliant days birding in fine company with Karl. Totals for the day were 67 Species seen and 2 heard.  Not bad at all for a dark and wet day of birding!
Thursday 13 February 2014
When is a Hoodie not a Hoodie?
When it is on the Moray Firth Coastline! Many clients of Birding Ecosse get quite excited when they first see a Hooded Crow in the local area, it makes it even harder to explain that these handsome creatures would not make it through the vetting process and allow them to be accepted as true Hooded, they are unfortunately destined to be Hooded x Carrion Hybrids. Must admit though some look pretty darn convincing and none the less smart looking birds!
Saturday 08 February 2014
Had a quick stop off at Loch Flemington today to have a look see at the long staying American Coot, true to form it was still present and showing well, and for a second time the bird was flushed by impatient photographers, blooming annoying, wish they would just let the bird be!
Thursday 06 February 2014
A very pleasant morning with a lot of birds visiting the feeders in the garden. Put a net up for a couple of hours to try and get some of the Long Tailed Tits that have become regulars visitors to the feeders, no luck unfortunately! Another nice retrap today, yet again a Blue Tit, ringed as a youngster way back in August 2010. Next week see's the start of a very busy period of tour guiding in the Beautiful Scottish Highlands and the equally stunning Moray Firth, so please call back to see what fantastic birds the area has on offer, and what you could be seeing on trips provided by Birding Ecosse.
Monday 27 January 2014
Well today was a very birdy day indeed!  When I woke up this morning and looked out the window, flat calm and overcast perfect for putting up a mist net and getting the 2014 ringing campaign under way! A really nice mix of birds were caught in the two hours before rain stopped play. Ringing totals: 1 x Great Tit, 1 x Robin, 4 x Blue Tit, 1 x Chaffinch, 1 x Dunnock, 1 x Coal Tit, 2 x House Sparrow. Two great retraps as well, V332834 Blue Tit originally ringed 18/02/2008 and V332890 Dunnock originally ringed 29/10/09 Just as I was packing up the net I noticed a flock of Long Tailed Tits heading towards the feeders in front of the house, and that was a the beginning of a feeding frenzy! Long Tailed Tit x 3, Collard Dove x 2, Goldfinches x 3, Dunnock x 2, Great Spotted Woodpecker x 2 (male and female) Tree Sparrow x 1, House Sparrow x 2, Greenfinchs x 3, Great Tit x 2, Blackbird x 2.
The day ended with a look around the Roseisle area for two reported Common Cranes, however these proved to be a no-show!
All in all a top day with our feathered friends.
Sunday 26 January 2014
Grey Herons are a common species around the coastline and inland waters, they do however become overlooked because of this, so next time you see "The patient killer" give it some time.
Saturday 25 January 2014
Honking weather and Honking Ducks
Well today the winter weather really bared it's teeth with absolutely torrential rain and strong Southerly wind.  Not very pleasant birding weather, however every rain cloud and all that…… the stormy weather had brought the Eiders and Long Tailed Ducks into the safety of the inner harbour. Sitting in the comfort of the car with the window down, sheltering from the extreme weather, whilst watching these beautiful ducks right below me really was  special, the male Eiders giving their Frankie Howerd  "aaa ooo aaa" calls trying to woo the females and the musical trumpeting call of the Long Tailed Duck (reminding me for some reason of the "Kitti' waaake" call of the Kittiwake.) Unfortunately the lighting was so poor that pictures were absolutely impossible, so I have reverted to last years pictures of Long Tailed Duck.  Interested in seeing these birds first hand? Then why not get in touch with Birding Ecosse a join us for a guided walk? Other birds present: Eider Duck, Long Tailed Duck, Guillemot, Red Throated Diver, Shag, Cormorant, Great Black Backed Gull, Herring Gull, Oystercatcher, Redshank, Shag, Cormorant, Turnstone, Curlew, Black Guillemot.
Friday 24 January 2014
A little bit of Naked Birding
Yes today I undertook some naked birding.  No not walking around unclothed, but a way of birding that just proves the point you don't need a lot of expensive kit to enjoy the hobby of birding. In essence it is bird watching with the naked eye, no binos, scope or camera.  All birds must be identified by sight or sound, (you can, according to the rules use binos to confirm ID once you have done the initial ID, although we didn't) So in a brief walk through the woods near to my house this is what we saw: Great Spotted Woodpecker, Chaffinch, House Sparrow, Coal Tit, Collard Dove, Pheasant, Greenfinch, Jay, Buzzard, Treecreeper, Woodpigeon, Rook, Blackbird, Robin. A really enjoyable, and to be honest eye opening little walk, and something I am keen to introduce to beginners when they are out on a guided walk.  Best get the basics in place then think about your kit.  I will however not be dispensing of the Swaros in the near future
Monday 20 January 2014
Today I am taking a different approach, with the use of different framing of the birds in picture, The first shows a close framed Turnstone, the reason I chose this picture is that it shows the beautiful slight "upturn" to the bill, a feature the birds uses to "Turn over stones" whilst feeding hence the name.
The next two picture are more to give the impression of the birds habitat, once again the Turnstone perched typically on the harbour wall and the Eider Male contrasting to the beautiful green backdrop water, sometimes closer isn't necessarily better.
Saturday 18 January 2014
Spot the difference!
Nice little comparison today between the Eurasian Coot and the American Coot, the American is still being reported at Loch Flemington today (per bird guides)
Friday 17 January 2014
Today I am reminiscing on long hot summer days at a fantastic seabird colony on the East Coast of Scotland, not only a feast to the eyes and ears, but also the sense of smell.  I personally love the musty fishy ambiance however it is not to everyone taste. To sit and be surrounded but thousands upon thousands of birds, all going about their daily business really is a magical moment, keep your eyes on the "planned trips" page nearer the breeding season for trips to our local seabird city at Troop head.
Thursday 16 January 2014 Part 2
Just getting ready to retire for the evening when the bright glow of the moon caught my eye, ideal digiscoping night.  Got a couple of shots before the cold air started a coughing fit and I retreated to the warmth of the house. Quite interesting when you look at the impact marks, and the "fallout" marks from these impacts, they must cover thousands of miles.
Thursday 16 January 2014
We are back in Canada for today's pictures.  The Western Kingbird along with Eastern Kingbird are probably high on my favourite bird lists.  This particular bird was standing guard at it's nest site giving some brilliant prolonged views. The Blue Winged Teal was pictured at the Kerry Wood Nature Reserve in Red Deer Alberta, it was a fantastic reserve giving stunning views of many species, more pictures to follow.
Wednesday 15 January 2014
Still suffering from a chest infection (how long will this last!) and the torn muscle makes driving fairly uncomfortable, so still on couch trawling through my digiscoping pictures and deleting the many many ones that don't come up to scratch. Here is a very quick selection of some that made it through!
Immature Grey Heron
Monday 13 January 2014
So it's a beautiful sunny day, very light winds and the ideal conditions for digiscoping the American Coot, that is still reported at Flemington (via birdguides) and here am I reduced to being curled up on the sofa with a torn rib muscle!  Ho Hum!
For those readers who call in here frequently can I just say thank you very much for your interest and also point you toward the Birding Ecosse Facebook page at  https://www.facebook.com/dslaterbirdingecosse?ref=hl  or even follow me on twitter @birdingecosse
In the meantime I will cheer myself up by looking at some of the Hummingbird pictures taken this summer in Alberta Canada, a big thank you goes to Chris Brown who let me turn her lounge and deck into a digiscoping platform
Thursday 09 January 2014
Well today's visit to Mr Coot was a tad different than yesterday!  Car park and passing places were full and two photographers were right down at the waters edge keeping the bird at a safe distance across on the reeds, if only they had kept back at their car the bird would have undoubtedly swam closer and gave them better photo ops, at one point the bird flushed right across to the opposite side of the Loch (South side) and into a flock of Whooper Swans, after about 5 minutes of unsettled feeding (no floating reeds at that side) it flew back to North side before swimming in front of the cars back to it's normal feeding location Ho Hum.  My efforts for today are shown below, managed to get a hint of the red at the top of the shield. Don't know why but I really like this bird!
Wednesday 08 January 2014
Had another drop in at Loch Flemington to see if American Coot was still present, good news it was! What was also nice is that I had the place and the bird to myself, really nice. I spent some time just watching the bird, it was feeding very well on aquatic plants, sometimes it would pick stuff off the surface, or from the matted reeds at the edge of the Loch, sometimes it dived to collect fresh green plants from underwater.  Whichever way it certainly was eating loads, which could be a good sign for the bird staying in the area. Got some better shots today, however need some sunshine to get the ISO down a bit!
Tuesday 07 January 2014
The Yanks are here!
So I am week willed! An American Coot has turned up at Loch Flemington (and before the great and good of birdwatchers in the area get their frillies in a knot once again the bird was found by a chap called Simon Eaves, a big well done to him, I am only reporting on the trip I had to see the bird he found… okay?) I really should have gone out in the better weather yesterday but a number of factors where against me going, but today after a night of "will I go/wont I go" I decided to drag my still man flu filled body of to see the bird. And boy I am I glad I did! Arriving before first light the car park only had one other car, even in the near pitch black, one bird was feeding on the floating reeds, white billed with Moorhen like undertail flashes….. the American Coot was still present! The light was really poor, hence the record shots only, however hopefully the bird will linger in the area allowing me to head through for some better shots at the weekend when the weather calms down a bit!  One thing that was very obvious was just how high the bird leaped out the water when diving.  Nice bird and looks like its feeding well and settled!
Saturday 04 January 2014
So what does a birding tour guide do on his day off with family?  He takes them birding!! (as many of you will know I am a kind hearted Scotsman and do not charge them (the full price) for a day tour
Today was down to the "failsafe" Crested Tit haunt, and the little beauties didn't disappoint! The pictures below are courtesy of Lynda. However I must admit I was mildly surprised when she charged me to use them
Wednesday 01 January 2014
Happy New Year!
As is now the tradition for Lynda and Myself we headed out for a quick jaunt to get the 2014 list started.  This year we stayed fairly local as both of us are suffering a bit of the cold (of course mine is worse being proper man flu, whilst Lynda is just a sniffle
 ) It was a beautiful day weather wise and turned out to be a Red Grouse photo day! And Lochindorb was a perfect place to start the New Birding year.
The Grouse were out in force today, must have been the sunny weather and calm winds, the white faced bird was unusual as was seeing the one walking along the small sandy beach right at the waters edge. Other birds that were good to get on the list were, Fieldfare, Redwing, Long Tailed Tit, Bullfinch and Jay. So just a couple of hours in the field, but a great way to start the new year.
Tuesday 31 December 2013
A great day out with Denise and Chris and a brilliant way to end the year. Starting off at the Grant Arms Hotel we headed straight for the coast and in particular Roseisle. The tide was perfect for sea watching, and I was mildly surprised to see just how calm the waters surface was  First birds in the Scope were a group of stunning male Velvet Scoters, panning over the Moray Firth soon revealed Long Tailed Duck, Common Scoter and two winter plumaged Slavonian  Grebes, a good start to the day. Next stop Lossiemouth, this time for the flock of Snow Buntings that usually frequent the dune system, today however they were sadly absent, the strong winds that had now whipped up probably keeping them low in the marram grass. We did have nice views of Adult Shag, complete with full breeding Crest and a female Goosander. Purple Sandpiper was the next species sought after so off to beautiful fishing village on the Moray Coast, which is proving the most reliable location for these birds this season.  We were not to be disappointed and Denise got some great views as two birds paddled and fed in a small rock pool near to the beaches edge. Also present were Oystercatchers, Turnstones and a lone Rock Pipit.
The historic village of Burghead was next on the itinerary and the main target bird for Denise, Eider Duck and boy did they perform well.  The usual small group of both Male and Female drifted around in the inner harbour giving absolutely stunning views, the males in particular looking fantastic.  To top it all Denise had said she would love to hear then calling, and as if on cue the males all started "chatting up the ladies"
Final stop of the day was a local grouse moor and  the Red Grouse where showing very well and proving ideal digiscoping opportunities,  a great way to round off a great day!
Thursday 26 December 2013
The day dawned early, I was bright eyed and bushy tailed, Lynda started off slight more jaded (quote "I have never drunk so much Champagne!) however after another fantastic feed for breakfast we both perked up and were raring for the day in front, guiding John and Nicola. First stop off was at Milton of Culloden, nice flocks of Wigeon feeding on the waters edge, Curlew, Bar Tailed Godwits, but highlight for this spot was a winter plumaged Great Crested Grebe, a definite scarcity in this area Although not planned we ended up back at Portmahomak. Once again the Purple Sandpipers were in the area, Red Breasted Mergansers, Common Eider and Slavonian Grebes where all present however Mr Otter was nowhere to be seen today. Tarbat Ness was quieter wind wise today and a nice selection of birds were to be seen, Chaffinch, Greenfinch, Robin and Dunnock at the car park feeders. Plenty of Red Throated Divers buzzed low over the water and a single Black Guillimot cruised past the point. A male and female Stonechat was a nice addition to the day, not a common bird in this region in winter time. Last call for the day was Chanonry Point in search of the Dolphins, luckily Nicola spotted three just off the point as the surfaced just twice, giving great views (Lynda was convinced one of them smiled and winked at her… still too much Champagne in her system from yesterday?) before diving below the surface never to be seen again ! A fantastic end to a simply brilliant festive season!
Wednesday 25 December 2013
Merry Christmas to all!  A relatively long lie this morning prior to the opening of presents with Lynda and Cheryl, before heading out to Revack Estate for a short walk with John and Nicola, Duncan and Pieter, and Liz and Keith.  Once again the wind was howling through the trees, but it still did not stop us having brilliant views of 35 Common Crossbills feeding high in some larch trees. Goldcrest, Coal Blue and Great Tit were also in the area and as a recce for Birding Ecosse it shows great potential for some short walks from the Hotel….. to be coninued! Christmas lunch was an absolute blast of a time! Fantastic company, outstanding food and a great relaxed atmosphere, definitely one of the best Christmas days I have had in a long time.  Thank you for the invitation John and Nicola and thank you also to the manager David Duncan and all the staff at the Grant Arms Hotel for making the day so special, it really was appreciated.
Monday 23 and Tuesday 24 December 2013
A cracking couple of days birding in the Scottish Highlands with a long standing Birding Ecosse stalwart Peter Hearn.  The weather was atrcocious with strong winds and squally showers, but that did not deter us in our search for birds. The first morning saw us starting the day with a coffee at Portmahomack harbour. The wind was a southerly so the bay off Portmahomack was relatively sheltered.  Long Tailed Duck and Common Eider were loafing just offshore and a nice tight little flock of Purple Sandpipers fed on the rocks just below the Harbour wall.  All of a sudden all birds took to flight, something had flushed them, but what……….?  All of a sudden an Otters heads popped up out of the water not 30ft away!  Sad that the birds were flushed but a great start to the day nonetheless. Making our way to Tarbat Ness we were subjected to the full fury of the gales.  Finding a sheltered spot the birds were soon spilling past and giving some excellent views. Red Throated and Black Throated Divers, Large flock of Razorbills just offshore and good numbers of Kittiwakes.  Birds also in the area included Twite and Linnet, Cormorant, Shag and a female Kestrel right beside the lighthouse. Nigg bay gave some welcome respite to the gales and we had judged the tide perfectly as the rising waters pushed the huge migrant roost closer and closer to us, Bar Tailed Godwits, Knot, Dunlin, Redshank and Lapwing all jostled for dry spots on the rapidly disappearing sand!  One Dunlin still retaining a surprising amount of Black on it's belly. Final stop was Udale bay, with tide fully in most birds were at roost giving brilliant views of Wigeon, Redshank, Grey Heron, Lapwing, Shelduck and Teal.  A fitting end to the day. Day two started on the beautiful Lossiemouth estuary, all the usual suspects were in the area, Black Headed, Common, Herring and Great Black Backed Gulls. Bar tailed Godwits showing well across on the far bank of the river Lossie, Wigeon whistled through out the visit and handsome male Teals shuttled to and from one side of the river to the other. Loch Spynie was interesting, firstly for the female Scaup that was present, it is a fairly reliable location for this species and gives a great opportunity to get great views of them. Next to grip our interest was this very strange hybrid:
This bird showed characteristics of both Male Mallard and Male Pintail, the head plumage was Pintail but in bottle green! The breat and body Mallard and finally to the tail, once again that of Pintail.
A movement outside the hide caught my eye, two Water Rails crept out of the reeds onto the small feeding platform, giving excellent views.  (Excuse the poor quality of the picture but it was taken through glass)
Owing to the almost impossible conditions it was decided to call in a day and head back to the Grant Arms hotel in Grantown on Spey.  Driving back via Lochindorb the Red Grouse put on a great display for us and so ended day two.
Now the difference with today was that instead of saying farewell to Peter, I was to be staying as a guest in this fantastic, wildlife specific , hotel.  Let the festivities begin!
Tuesday 17 December 2013
Netherlands April 2013
A great visit across to Denekamp right on the German border, visiting long long time friends and fellow birders Wildred and Gusta. We visited some old haunts, and some new ones and got some great birds.  The highlight for me (sorry the pictures aren't better) was the Middle Spotted Woodpecker, a cracking wee bird and a lifer!
Sunday 15 December 2013
Spain September 2013
So as I sit here on a storm lashed Sunday afternoon what better way to cheer myself up than by looking at some pictures from Sunny Spain.  For some reason even though I have taken hundreds of pictures, very few come up to the mark.  Luckily Im going back to the Rio Guadalhorce in March on a birding and Digiscoping long weekend, cannot wait!
Saturday 14 December 2013
Some highlights of 2013 – Canada June 2013
This year I  have been lucky enough to travel to a fair few places in the world, accompanied with my wonderful and ever suffering partner Lynda (thank goodness she  is a birder as well!) Trawling through my pictures I decided to put up some of my most memorable birds, first up Alberta Canada, a fantastic country to visit, brilliant people, fantastic food and absolutely stunning birds.
Thursday 12 December 2013
The return of "what am I?"
Whilst sorting out my digiscoping images,  I do come across the occasional shot that does not come up to scratch (now THERE is an understatement!) So just for fun what are the birds taking flight in the picture? Use the contact us link to let me know your answers. All will be revealed next week Good luck!
Thursday 05 December 2013
The North Wind Doth Blow!
With my interest peaked, and a rare day off I headed down to Burghead to see what this winter storm had brought in.  What little birds were about were either hiding from the awful weather or were heading past at Mach 3, some of the Herring Gulls almost cartwheeling past!  The only exception was one brave male long tailed duck, flying into the wind and was almost hovering it was that strong!
Retreated home for a cup of tea!
Tuesday 26 November 2013
Well it wasn't exactly the same as yesterday, I opened my house door to be greeted with heavy rain and a fierce NW wind!  Not ideal Eagle weather! Making my way to Forres I picked up Jean, a new client for Birding Ecosse and explained that the forecast was for it to brighten up early morning.  So we decided to head on up the valley. First stop was at Lochindorb, all was quiet to begin with however it was not long before we heard the distinctive "Go Back! Go Back! Go Back!" call of Red Grouse and before long a stunning male and female appeared right beside the car.  They gave Jean brilliant views before skulking back into the heather. On the water 2 Whooper Swans were a nice find and also in the area Tufted Duck and Goldeneyes, males and females of both species. On the entry to the valley at the garden feeding station, Pheasants, Chaffinches, Greenfinches and two Goldfinches were present and a single Dunnock fed below the feeders. In the valley proper the weather had abated slightly, Red Legged Partidge and Jackdaws were the first birds to be spotted. The weather then closed in again however every cloud etc etc. At the top car park three Buzzards put on an impressive display of "wind chuting" where they half close their wings and hang in the up current from the hill.  Fantastic spectacle to watch.
Birds as seen on day: Pheasant, Common Buzzard, Red Grouse, Whooper Swan, Tufted Duck, Goldeneye, Jackdaw, Blackbird, Collard Dove, Curlew (calling) Red Legged Partridge, Coal Tit, Greenfinch, Chaffinch,Goldfinch, Dunnock, Woodpigeon, Mallard, Wren.
Monday 25 November 2013
It was a beautiful morning to be out on today's guided walk around the historic village of Burghead.  A nice little flock of 75 Knot were the first birds of the day, with some Bar Tailed Godwits mixed through for good measure. The sunlight was perfect for digiscoping and the roosting Cormorants and Shags gave the ideal subjects to photograph.
The Common Eider were close to shore, with a few individuals venturing into the harbour itself. When the winter weather gets colder more and more birds will come into the sheltered water with perhaps of some Long Tailed Ducks.  Two North Atlantic Grey Seals kept a very wary eye on us a did a Rock Pipit perched on the one of the fisherman's sheds.
From the viewpoint rafts of Common Scoter were seen to the east of the point with a single Velvet Scoter. Long Tailed Ducks a few immature Gannets and a Red Throated Diver were all also in the area.
Oystercatcher and Turnstones were feeding on the rocks along with a lone Curlew and two Grey Herons.
The walk ended with a coffee in "The Bothy" coffee shop, an excellent way to round off the morning.
Birds as seen on day: Knot, Bar Tailed Godwit, Herring Gull, Great Black Backed Gull, Cormorant, Shag, Long Tailed Duck, Common Scoter, Rock Pipit, Red Breasted Gull, Red Throated Diver, Velvet Scoter, Gannet, Oystercatcher, Turnstone, Grey Heron.
Monday 18 November 2013
With colder weather forecast for later this week, the first real good flocks of Pink Footed Geese were in the Inverness Airport Area plus a nice flock of Fieldfares were waiting for me in my garden trees when I got home today.
Wednesday 13 November 2013
I spent this afternoon in the very pleasant company of Shelley from California, and showed her around the  Moray coastline taking in some cultural venues as well as birding hotspots. It was  breezy and quite chilly  but that did not detract from the day and when the sun came out it really did show our visitor from across the pond just how beautiful the area can be.
The thing that is really great about guiding people from different shores (and I feel the same when I am birding abroad) is that nearly every bird for them is a "lifer" so even the more common birds such as Herring and Black Headed Gulls take on a whole new meaning.
Hopeman provided brief views of my target bird – Purple Sandpiper, and a male Long Tailed Duck had drifted close to shore allowing Shelley to see the long tail feathers flexing and bending in the wind, a stunning wee bird.
After a quick, freshly brewed coffee at Hopeman we headed off to Burghead, by this time the wind was almost storm force and the light was beginning to fade, however this just enriched the colours of the male Common Eiders, the green on the side of the head and pink blush on the breast showing off brilliantly.
With the light now gone it was time to drop my guest back her base and bid her bon voyage as she heads for home at the weekend, hope you get home safe and sound Shelley.
 Birds as seen on the day: Eurasian Wigeon, Eurasian Teal, Common Curlew, Bar tailed Godwit, Redshank, Herring Gull, Common Gull, Black Headed Gull, Great Black Backed Gull, Grey Heron, Pied Wagtail, Long Tailed Duck, Common Scoter, Greenfinch, Great Cormorant, Shag, Purple Sandpiper, Carrion Crow, Rook, Hooded Crow (hybrid) Collard Dove, Jackdaw, Common Eider Duck, Northern Gannet, Magpie, Buzzard, Ringed Plover.
Sunday 10 November 2013
 Today I was helping out with the Birdwatching and Wildlife Club (BWWC)  located in the Grant Arms Hotel in Grantown on Spey, it really was a beautiful morning here in the Highlands.
Two guests took up the offer (or should that be challenge!) of a free guided walk through Anagach woods behind Grantown with Birding Ecosse.
First stop was the hotel feeding station, plenty of birds coming and going, including Coal and Great Tit, Robins and Blackbirds.  Two Crested Tit were calling nearby but proved elusive on the day.
Chaffinches, as is the norm, where calling from nearly every tree and bush with the occasional Dunnock and Wren adding their voices for some good bird call tuition.
Down an the river two redhead Goosanders where in the usual location of the long concrete pontoon in the river, and a Dipper was dipping on a rock over the far side of the river Spey.
Heading towards the Wade bridge a nice little mixed flock flew past including Long Tailed Tit, Blue Tit, Coal Tit and Great Tit, and a single Goldcrest.
Completing the loop heading back towards the car some of the more common birds  were picked up. House Sparrow, Dunnock single Siskin and Collards Doves.
A cracking walk in stunning weather, thank you Graham and Judy for a very informative and entertaining morning!
Birds as seen on Day: Great Tit, Coal Tit, Chaffinch, Treecreeper, Robin, Goosander, Dipper, Long Tailed Tit, Blue Tit, Great Tit, Rook, Dunnock, House Sparrow, Collard Dove,  Blackbird, Greenfinch, Jackdaw.
Wednesday 06 November 2013
This is a rather belated trip report from Monday when I had the true pleasure of guiding one of my regular customers Richard "God bless ya Maray Poppins" Cockerill, it is always a day filled with laughter, stories, politics, advice and most of all fantastic birds. Picking Richard up from the magnificent Grant Arms Hotels in Grantown on Spey (home of the BWWC) we headed off for a day on the Moray Firth coastline looking for Seaducks and Waders.  First port of call was Kingston and Garmouth on the scenic River Spey. The first thing that was apparent on arrival was the tide, it was mega high!  It should have been on the turn and exposing some of the mud, however the mud flats were deep under water and the breakers out on the Moray Firth looked in danger of breaching over the high shingle bank! (in fact we later found out from a local that it had indeed breached the shingle  bank the day before!) A large amount of gulls were feeding along the strand line of the waves and included Common, Black Headed, Great Black Backed and Herring Gulls. Wigeon were whistling behind us and Teal and Mallard showed off well just in the reeds near where we were standing. Onto Loch Spynie, where it was great to get out of the biting North Westerly wind, a nice group of 14 Whooper Swans welcomed us to this beautiful wee reserve and the supporting cast of Tufted Duck, Goldeneye, Mute Swans, Cormorants and Grey Lag Geese all added to the days total, however star performer was a female Marsh Harrier seen hunting over the reeds just across from the hide, briefly hanging in the wind before plunging out of sight never to re-appear!
Lossiemouth estuary was suffering the same problem as Kingston and Garmouth with the very high tide, it was coming through the dunes system at the far side of the river, something that only happens once or twice a year.  But looking through the gaps in the dunes we could see Gannets were feeding very close to shore. Onto Hopeman where thankfully the tide had dropped enough to expose some sand and rocks, Rock Pipit and Redshank were busily feeding whilst a lone roosting Turnstone sat huddled and fed up looking on the harbour wall.  A Red Throated Diver was close to shore allowing superb views of its winter plumage, delicate neck and lovely uptilted bill. Burghead was next on the itinerary and Common Scoter, Long Tailed Duck and Rock Pipit were soon on the list along with one, perhaps two Slavonian Grebes just off the harbour wall, these birds are always a pleasure to see, regardless of being in winter plumage. Strangest sighting of the day was a single Arctic Tern feeding out in Burghead bay heading towards Findhorn! As light was fading we paid a visit to Findhorn Sand dune system where here we picked up our last target bird for the day two rafts of Velvet Scoter that showed well between the now massive waves crashing into shore. It was a brilliant days birding and as the winter progresses and the number of birds increase it can only get better!  So check out our Planned trips" page and book yourself a day on the Moray Firth with Birding Ecosse. Birds list as seen on the day: Common Gull, Black Headed Gull, Great Black Backed Gull, Herring Gull, Carrion Crow, Yellowhammer, Wigeon, Goldeneye, Gannet, Eider, Collard Dove, Starling, Teal, Dabchick, Grey Heron, Shag, Pink Footed Goose,Whooper Swan, Mute Swan, Tufted Duck, Marsh Harrier (fem), Grey Lag Goose, Blue Tit, Redwing, Fieldfare, Great Spotted Woodpecker, Chaffinch, Blackbird, Carrion Crow, Buzzard, Redshank, Goosander, Red Breasted Merganser, Arctic Tern, Long Tailed Duck, Rock Pipit, Cormorant, Robin, Red Throated Diver, Velvet Scoter, Common Scoter, Slavonian Grebe, Greenfinch, Collard Dove, Woodpigeon, Pheasant, Kittiwake, Turnstone, House Sparrow, Goldfinch.
Tuesday 05 November 2013
Living up in the Highlands of Scotland and in particular the spectacular Moray Firth lets me indulge in my passion of Seawatching, and having the privileged position of being a birding tour guide it allows me to share my passion with others. The area is a birding paradise in any season, from spring and summer with its Ospreys and Slavonian Grebes, breeding colonies of Auks, Kittiwakes and Fulmars, Black and Red Throated Divers on remote Scottish Lochans and not to mention all our famous Grouse, but autumn and Winter is, for me, the seasons when the Moray Firth comes into its own. Many participants on Birding Ecosse workshops and tours are taking their first steps into the world of Birding, and as with any new hobby or venture they can find the array of optics, cameras, tripods, clothes and in particular field guides and reference books daunting.  What is the best……?  Which…….. Should I buy?  What…….. Do you use? are all frequent and pertinent questions. With the publication of the new Crossley ID Guide to Britain and Ireland I will hopefully be able to at least give some guidance to the reference book question! Even with best intentions, sometimes birds and weather will conspire against you, and they decide they will not put on the usual "lets swim close to shore" routine and stubbornly remain distant spots on a vast seascape.
This is where the Crossley guide comes into its own

As a training guide the book is absolutely top notch, comparing the real life birds and the excellent plates from the Crossley Guide you can see the direct comparisons.  Does the bird have any white on the face or wings?  No? Then it cannot be a Velvet.  Does it have White on the head or nape? No? Then it cannot be the Surf Scoter.  So using process of elimination, which in essence what identification is (albeit done in fractions of seconds) the bird you are now looking at is the Common Scoter. Likewise with another bird that people will flock (pardon the pun) to see, the beautiful Long Tailed Duck
Long tailed ducks arrive in their thousands to spend the winter in the relatively calm and warm waters of the Moray Firth from October onwards. On first inspection they appear to be all the same, however look more closely ( this is the benefits of booking a tour with Birding Ecosse as you get to use our first class optical equipment to do this!) and you will see some subtle differences, The males in their fine winter plumage, the more subdued females and the immature.  All beautifully depicted in the Crossley ID Guide.
The plates are clear, and unlike most guides or reference books they show birds in various postures and also with the background of real locations it (in fact this is a pleasant aside for myself, trying to figure out where the backgrounds are!)  The other real benefit or beginners and intermediates (the audiences this book is aimed at) are that you are not overwhelmed by exotic, but similar looking species.  I have on occasions had flocks of Sinai Rosefinches and Crab Plover in the Highlands of Scotland, and although I would dearly love to encounter this I had to point out that they were actually looking at Linnets and Oystercatchers.
Finally a little bit of a quiz for yourself to try, study the picture below and then see if you can work out what birds are in view…….
So in summary, if you are just a beginner or wanting to expand your skills then the Crossley ID Guide to birds of Britain and Ireland is a "must buy book" and even if you are experienced birder then it is a highly engrossing book looking at the scenery of the plates and the postures of the birds making a great browse through. This review is part of the Crossley Blog Tour, to find more reviews and articles please follow the links to other bloggers starting with tomorrows guest blog http://birdingfrontiers.com For a chance to win a signed copy of this fantastic book please visit http://blog.press.princeton.edu/crossley-id-guide-uk-giveaway/ If you wish to see a list of contributing bloggers please visit http://blog.press.princeton.edu/crossley-uk-blog-tour-schedule/ Finally if you have any questions for either Richard Crossley and Dominic Couzens then they are holding a live video call on November 21st on http://shindig.com/event/crossley-id-guide Many thanks and I hope you have enjoyed this review, if you fancy putting the book to the test then why don't you book a day trip with Birding Ecosse, we look forward to meeting you.
Tuesday 29 October 2013
Well the weather has definitely taken a turn cooler this last few days, and the Southerly wind that had been blowing started to get a Northerly component, so with that in mind I had a quick stop in at Nairn on the way home from Inverness today. Birds as seen: Herring Gull, Common Gull, Gannet, Red Breasted Merganser, Guillemot, Long Tailed Duck, Red Throated Diver, Gannet, Turnstone, 2 Arctic Tern, 1 small Unid Tern, Common Scoter, Cormorant, Rock Pipit, Redshank, Carrion Crow, Black Headed Gull, Common Eider, Mute Swan.
I am really looking forward to reviewing this completely new approach to bird books.
Full review will be posted on this very blog on 05 November 2013 so please call back and take part in this "Blog Tour"
Thursday 24 October 2013
"The tale of Swollen Knee"
Yesterday, as reported was an outstanding day of birding and company, what I failed to add is that Derek had soldiered on with a very sore knee after having had' a fall outside the station at Aviemore. When I arrived at the hotel this morning, and Derek wasn't waiting expectantly on the driveway I had a feeling things were not right.  At reception I was informed to visit Derek in his room where I found out he had paid a visit to Hospital last night and his leg was, to put it in birding terms "goosed" Hope you get well soon Derek and I will call next week to see how you are, however every cloud has a silver lining (and I know Derek wont mind this being my silver lining) and as I waited for the chemist to open so I could purchase some pain killers for "Derek Swollen knee" I paid a visit to the BWWC feeders in Anagach woods to try and get some Crested Tit.  I wasn't to be disappointed!
The birds showed brilliantly throughout the hour I spent watching them, it also became apparent the Cresties will come more readily to food on the ground than Coal, Great and Blue Tit.
However I must add that for ignorant dog walkers then I'm afraid that the Anagach wood dog walkers have stolen the long held title from the Lossiemouth Estuary Dog Walkers, all we need now is for windsurfers to start on the River Spey to see if they can compete with those ignorant folk at Findhorn Bay?! (please note: not all dog walkers are ignorant, only the ignorant ones!  I walked back to the car in the comopany of a man whose Jack Russel stayed at heel and behaved impeccably, likewise there are some fantastically trained dogs at Lossiemouth as well, unfortunately as in much of life "the few spoil it for the many")
Wednesday 23 October 2013
Well where to start!?  A truly amazing day out birding with Derek staying with the BWWC at the Grant Arms Hotel in Grantown on Spey. With an 0800 pick up we were soon heading along the coast to Kingston and Garmouth near Spey Bay. A quick flyby of a Jay closely followed by a huge female Sparrowhawk got the day of to a great start. Arriving at Kingston we scanned over the exposed mud flats and immediately noted good numbers of Teal and Wigeon, a single Black Tailed Godwit was a great spot by Derek. Reed Bunting and Yellowhammer were in nearby bushes. The weather was flat calm with a bright but not glaring light, a cracking morning so far. Over to Loch Oire, to try for the recently reported Shovelers (not an overly common bird in this neck of the woods), luckily we picked them up straight away, in fact two males and two females were present, also here were Dabchick, Moorhen, Wigeon and Teal.
Next stop was Lossiemouth, by this time the weather had taken a turn for the worst, dark clouds were looming and the wind had increased.  The estuary was absolutely perfect for birding and excellent views were had of Bar Tailed Godwits, Goosanders and Redshanks.  Moving round to The Station car park it was here we had the surprise of the day, something made me look up and I was amazed to see a Swift zip by, as I called it to Derek and raised my binos to the bird a second bird appeared in my view, not only that, they were then joined by two House Martins!  All between squally rain showers and blustery gale force winds!  One of the birds was seriously pale with a defined white throat pouch, however I couldn't make out its saddle colour or if it had a dark eye smudge so it will ever remain Common Swift! Hopeman added Turnstone, Rock pipit and Pied Wagtail to the list but once again the weather closed in and we beat a hasty retreat to the car for shelter and lunch, we also took the chance of the weather to re-position to Burghead.
Burghead was now in the grips of a howling gale, and heavy rain showers, this however only helped to bring the birds in closer! Some crippling views of Immature and Sub adult Gannets as they came with a couple of hundred feet of the shore line, Common Scoter and Long Tailed Ducks were drifting along hugging the shoreline.  A  Red Throated Diver and Guillemot  added another two species to the ever increasing tally for the day.
Roseisle came up trumphs with the target species of Velvet Scoter, Derek had wanted to compare Common and Velvet and now he had the chance, more Long Tailed Ducks were scurrying to and fro along the Moray Firth.
And so to the final leg of today's Grand Tour of Moray, Dava moor.  The rainbow that greeted us did not end in a pot of gold but something just as good, Kestrel, Red Grouse and a good sized mixed flock of Fieldfare and Redwings.  All in all a fantastic days birding with over 60 species seen.
Bird list as they were seen: Teal, Wigeon, Grey Heron, Dabchick, Sparrowhawk, Mallard, Lapwing, Robin, Reed Bunting, Curlew, Yellowhammer, Great Black Backed Gull, Black Headed Gull, Black Tailed Godwit, Chaffinch, Whooper Swan, kittiwake, Herring Gull, Goldeneye,Red Breasted Merganser, Mute Swan, Red Throated Diver, Jay, Carrion Crow, Greenfinch, Collard Dove, House Sparrow, Blackbird, Common Gull, Pink footed goose, Shoveler, Tufted Duck, Moorhen, Bar Tailed Godwit, Goosander, Cormorant, Common Swift, House martin, Sanderling, Redshank, Oystercatcher, Eider, Gannet, Shag, Rock Pipit, Starling, Razorbill, Dunnock, Common Scoter, Guillemot, Turnstone, Velvet Scoter, Coal Tit, Goldcrest, Rook, Red Grouse, Kestrel, Buzzard, Fieldfare, Pheasant, Pied Wagtail, Woodpigeon.
Monday 21 October 2013
Yet another glorious day on the Moray Firth for weather, birds and company! Meeting one of my longest serving clients Jackie (or repeat offender should that be?) at the usual car park near the harbour at Burghead the temperature was already approaching +14 the sun was shining and the birds were out in force:  Starling swirled around in there winter flocks, Linnets busily and noisily chirped over head, House Sparrows and Chaffinches hopped from bush to grass and back again.  The tseep tseep call alerted us to a Rock Pipit feeding down on the seaweed strewn rocks before flitting up to give brilliant views along the railings and path.
Looking across to a small patch of marram grass on nearby rock some movement caught my eye and using my binos, two imm Goldfinches where seen feeding on the wispy seed heads, then I noticed a reed Bunting crouched low at the base of the grass, quite an unusual sight down here at the harbour.  The Bunting then flew up onto the harbour wall giving great views through the scope. The ever present cormorants were sitting like carved gargoyles at the end of the harbour wall drying their wings in typical fashion.
Common Scoter, Common Eider and  Long Tailed Duck scurried along in loose flocks over the calm surface of the Moray Firth whilst on the Beach Bar Tailed Godwit, Redshank and Curlew all made the most of the very low tide and fed hungrily on the newly exposed sand.
Walking towards the harbour entrance Turnstones were seen alongside flocks of House Sparrows and yet another Rock Pipit.
A lone Kittiwake seemed to be ignoring the rafts of its relatives floating just offshore as it sat on the harbour wall soaking up the sunshine, it was a great opportunity to talk Jackie through the relevant ID pointers.
Arriving at the viewpoint the views of the Firth today were just outstanding, however what was even more of a surprise was the three Magpies sitting on the flagpole of the viewpoint, not a common bird around here at all, and although very nice to see I hope we do not see a population explosion of this species in the area.
Birds drifting along out to sea included Long Tailed Duck, Common Scoter, Two Red Throated Divers and the incongruous sight of two Arctic Terns passing by, the plain unmarked upperparts showing no contrast on the primaries gave the bird a very pale apearance, (as an aside the fact you are guiding people makes you pay particular attention to details of plumage, and it helps both your ID skill and the people you are guiding)
The walk back to the car turned up a cracking Purple Sandpiper mixed in with a feeding flock of Turnstones and a Grey Heron posing motionless against the rock awaiting the first movement in the water below that would signal lunch was ready!
A brilliant morning birds with a varied and interesting haul of species, a great way to spend a few hours.
Birds list as they were seen on the day:  Kittiwake, Great Black Backed Gull, Bar Tailed Godwit, Black Headed Gull, Oystercatcher,Curlew, Red Breasted Merganser, Redshank, Rock Pipit, Chaffinch, Starling,Robin, Reed Bunting fem/imm. House Sparrow, Cormorant, Common Scoter, Turnstone, Feral Pigeon, Magpie, Dunnock, Linnet, Long Tailed Duck, Common Eider, Purple Sandpiper, Arctic Tern x 2, Common Gull, Guillemot, Razorbill, Red Throated Diver.
Sunday 20 October 2013
Once again an absolutely stunning morning on the Moray Firth, beautiful clear sky and not a breath of wind.
The forecast and weather charts were looking very promising, however it was apparent straight away that no mega fall had taken place, it looks better for later in the week…. and I have two full day tours booked for the coast, Happy Happy days
Robins were the first birds to appear along with a couple of Dunnocks. On the beach it was almost devoid of birds, only a lone Oystercatcher and Common Gull were feeding on some of the pools.  Gannets were still feeding off shore but were a bit further out than yesterday.
Walking my usual circuit I came to the conclusion it would be better to walk in an clockwise direction, thus keeping the sun out my eyes!
Two Blackbirds flew out of cover followed by my first Fieldfare of the season, excuse the quality of the pic, it was barely daylight! A tight group of 40 Starlings were perched on the masts of the boats.
Two wrens, more Dunnocks and Robins and a flock of 25 Linnets (feeding on the roof of the Captains Table cafe)  were all picked up in quick succession, and a single Goldfinch chirrped overhead.
Up by the cottages with the feeders, usual suspects where hanging around, Coal Tit, Blue Tit, House Sparrow, Chaffinch, Greenfinch, Woodpigeon and Collards Dove
Back at the beach Velvets Scoter had moved in closer to shore and one Slavonian Grebe was still in the area.  Walking back to the car a nice wee group of three Blue Tit, one Great Tit,  two Robins and a single Goldcrest were all in the car par area.
Friday 18 October 2013
Today was a guided trip around the dune systems at Findhorn Bay. The weather was fair with a brisk S/W breeze.
Meeting at the hide (no druggies this time, but the door is now vandalised and open to all ) the first thing apparent was the amount of Pink Footed Geese. A good gaggle were on the mud flats with more skeins wiffling in.  Nice to see them back.
Birds in the area, as they were seen: Pink Footed Goose, Mallard, Shelduck, Wigeon, Redshank, Dunlin, Mute Swan, Curlew,Robin.
Heading down to the Dunes the first initial scan with the eye did not look promising, very quiet.  However when you put the scope on the area it came alive!  Imm Gannets were plunge diving offshore, flocks of Long Tailed Ducks buzzed across the waters surface and good flocks of both Common and Velvet Scoter where close enough to shore to give fantastic views and the opportunity to compare both species side by side.  At this time two smaller birds entered stage left and swam through the scoters….. two Slavonian grebes, nice birds in winter plumage and always a top bird to pick up.
Small birds came in the form of Yellowhammer, Pied Wagtails and Meadow Pipits.  A few Robins were dotted around but not enough to hint at a fall, Robert had a quick glimpse of a Redwing as it disappeared into the gorse never to be seen again!
Birds seen: Velvet Scoter, Common Scoter, Slavonian Grebe, Gannet, Long Tailed Duck, Eider, Herring Gull, Great Black Backed Gull, Yellowhammer, Robin, Starling, Blackbird, Chaffinch, Greenfinch, Blue tit, Coal Tit, Woodpigeon, Collard Dove, Dunnock, House Sparrow, Redwing, Meadow Pipit, Pied Wagtail, Teal, Hodded/Carrion Crow Hybrids.
Wednesday 16 October 2013
It was a lovely start to the day, temperature was a nose nipping +1 not a cloud in the sky and not a breath of wind.  The day was set fair for a guided walk with the Grantown on Spey U3A group. Walking around the harbour area the first birds to be picked up were the gulls, Herring and Black Headed, with a lone Great Black Backed Gull perched high on a street light, soup ducks (hybrid Mallards) and Mute Swans were seen further upstream.  A small high tide roost of Redshanks and Turnstones huddled together on an undisturbed bit of the jetty. At the furthest part of the harbour wall the view over the Moray Firth was just outstanding, it was absolutely flat calm.  The birds unfortunately where quite widely dispersed over the surface.  Long Tailed Ducks, male an female, Common Eider, Cormorants and Shags where all present  A few common Gulls drifted by. Frank picked up a rock Pipit feeding across the river from our location and gave good views, which in turn gave me the chance to go through the differences between the Rock and Meadow Pipits.  A couple of hybrid Hooded/Carrion crowns looked down on us from the marker light at the end of the Harbour wall. Skylarks where heard "churrup churruping" high over head, continental birds arriving perhaps? Leaving the harbour and walking along the seafront in a westerly direction, some normal, run of the mill House Sparrows were perched in the marram grass, and what was nice to see was people taking time to look and admire these very common, but always overlooked little birds, they really are a beautifully marked in subtle browns and greys. Skylarks were still trickling through over head whilst Robins and Dunnocks both called from most bushed, however there was no sign of any Yellow Browed Warblers (I will find one this year!) However one lone Female Common Scoter was seen keeping company with the Long Tailed Ducks.  Two good sized skiens of Pink Footed Geese were seen heading North very high?! And a red head Red Breasted Merganser showed will out on the Firth. It was a lovely way to spend a couple of hours, some stunning scenery and some entertaining conversations. List of birds seen (order:- as seen on day) Oystercatcher, Herring Gull, Common Gull, Great Black Backed Gull, Black Headed Gull, Chaffinch, Yellowhammer, Robin, Greenfinch, Starling, Blue Tit, Turnstone, Redshank, Mute Swan, Long Tailed Duck, Rock Pipit, Skylark, Cormorant, Shag, Pink Footed Geese, Red Breasted Merganser,Whooper Swan x2,
Tuesday 15 October 2013
A beautiful morning up here on the Moray Firth and although no rarities it was just one of those days it was great to be out in the Field birding. Long Tailed Duck, numbers seem to be down on what I had on Friday, Common and Velvet scoter, Red Throated Divers dotted across the whole of the Firth and one Slavonian Grebe. Not many passerines although one Robin was getting run ragged by four or five "interlopers" Grey Plover was still at Lossie Estuary yesterday.
Monday 14 October 2013
Today can only be described as driech!  Recent rain overnight and a strong N/E had the makings of a good migrant morning, so off to Findhorn Dunes I duly went. Hundreds of Juvenile Gannets were plunge diving just offshore, and Velvet and Common Scoter zipped low over the waves, only three Long Tailed Duck seemed to be in the area, although there were plenty of wave troughs for them to hide in! On the passerine front, many Grey Pate Goldfinches sat and fed on nearby seed heads, Robins, Dunnock and Blackbirds were all chipping and chacking in the gorse bushes, but alas nothing rare put in an appearance. With the drizzle giving way to rain proper I retreated to the car then home for a warming coffee!
 Sunday 13 October 2013
Nice late afternoon walk up through the woods near to home, Great Spotted Woodpecker was noisily making its presence felt, Chaffinch, Robin and Wren also in the area, it was however the target bird for the walk that gave most pleasure… 30 Redwings flew over head heading East, part of a major influx of these Scandinavian winter visitors.
Friday 11 October 2013
 It was one of those mornings that made you glad to be out and about. Hardly a breath of air, bright but without any glare.  Perfect for birding! Walking along the foreshore of Nairn is a brilliant mix of Grass football pitches, a strip of marram grass and buckthorn, loads of migrant attracting Sycamore trees and loads of elderberry bushes. The whole underwatched area has an air of expectancy about it…. I love it and the fact you very seldom see another pair of binos makes it even more appealing! Today was a general walk around prepping for a guided walk here later on in the week, so what follows is a list of birds as they were seen on the day: Oystercatcher, Goldfinch, Black Headed Gull, Herring Gull, Great Black Backed Gull, Common Gull, Carrion Crow, Pied Wagtail, Eider, Pink Footed Goose (one lone bird heading West) Blue Tit, Long Tailed Duck (first of the season for me) Red Throated Diver, Goldeneye (one flock 8 birds heading west) Grrenfinch, Razorbill, Whooper Swan (once again a single bird heading West) Red Breasted Merganser, Mute Swan x 8, Cormorant, Shag, Treecreeper, Blackbird, Robin, Dunnock, Wren, House Sparrow, Starling. Down at Nairn Harbour: Mallard, Robin (there seems to be a few Robins in the area this morning, feeding on the rocks and the seaweed) Dunnock, Turnstone, Redshank, Skylark (constant low flying flocks heading West giving characteristic "churrup chuurrup" calls, Black headed Gulls, Carrion/Hooded Crow Hybrids, Bar Tailed Godwits 33, Knot 15, Sanderling 50+, Pale Bellied Brent Geese 4 at the River mouth, nice little flock of roosting gulls at river mouth.  Common, Black Headed and a few Kittiwakes thrown in. All in all a nice little mixed bag of birds for a mornings walk.
Catch up so far!
Okay so I have admitted defeat, the amount of great birding trips I have undertaken since my return from Canada in June 2013 means I have sadly neglected this blog, however with the end of the year drawing ever closer, and a new regime of managing my time (the off button on the TV is a marvelous invention!) I find I can now afford the time to keep you all informed of my shenanigans!
As a way of a catch up I have selected a small sample of pictures of the last few months with a brief explanation with them, after this I will try (honest m'lud) to update each trip on the actual day!
So sit back and hopefully enjoy.
Tuesday 02 September 2013
Another excellent morning spent in the company of the Oates family, this time searching for birds of valley and stream. Heading across the Farr road the first birds to make a real impact were a good sized flock of Meadow Pipit with at least seven Stonechats added in for good measure, one of the Stonechats was showing some very immature plumage, with downy tufts still visible on its head and nape. Red Grouse put on a good show, both male and females showing well, although the light could have been better for Dave to get some pictures.  A Red Kite in wing and tail moult circled the area holding prey in its talons. C0ming down off the high road an adult Dipper, was doing what dippers do best…. dipping in and out of the small stream. Arriving at Eagle Car park I noticed the wind had increased in strength and the usual passerines at this location were sheltering in the gorse, Blue and Coal tit were calling from the depths and a Dunnock made a quick appearance before taking for cover again! Desperate times call for desperate measures, and Sasha was promptly staked out as Eagle bait, sadly even this didn't work!
Heading up to the top car park, the strong wind ever present, it was nice to see Ravens up at about, two buzzards provided an initial adrenalin rush but once again all was quite on the raptor front.. Even with the lack of birds it still was a beautiful day to be up the Valley.
Once again, a great day in great company.
Friday 30 August 2013
Spent a fantastic morning in the company of the Oates family from the distant lands of Cambridgeshire. Today we were heading off to Tarbat Ness and Portmahommack in search of seabirds and migrants, the weather was bright and breezy and although the heat of the summer is on the wane it still made for very pleasant birding conditions. Portmahommock was first stop, Eiders drifted about in loose flocks, the brown females staying separated from the males, many now in their black and white eclipse plumage.  Gannets, mainly adults were feeding out to sea and Sandwich Terns made their presence known by flying overhead giving their raucous "kerrang" call, a real sound of summer.  A good flock of House Sparrows were hanging about in the nearby bushes whilst Jackdaws and Collard Doves fed on the sea weed strand line on the beach. Heading up to Tarbat Ness good numbers of Starlings and Hirundines where perched on farm buildings and Telephone wires, looks like it has been a good breeding season for them.  Arriving at the car park the feeders where in high demand by yet another healthy population of House Sparrows, with the occasional Chaffinch and Hedge Sparrow thrown in for good measure. Heading out through the gorse path to the lighthouse linnets perched on the telegraph wire, and House Martins Chirruped over head, on closer inspection we noticed the nest high up on the light house, just below the glass dome, the birds were continually flying up trying to coax the unfledged youngsters to take to the air!
Out to see a small raft of immature Shags lazed about on the water, Gannets, Fulmars and the ever present Sandwich Terns drifted by continually.  There was however no sign of yesterdays pod of Killer Whales. Last stop was the RSPB hide at Nigg bay, although the tide was fully out we still have the fantastic sight of four Osprey in the area at the same time, along with Curlew, Shelduck, Grey Heron and a nice Autumn flock of 90 Lapwings. A great morning, with highly entertaining company and a good handful on birds.  Look out for my next blog when we head out for Eagles and Ouzels!
Monday 12 August 2013
The group of people pictured below are the Grantown on Spey U3A and under the guidance of one Frank MacKay they booked me as a guide for the morning (for a second time!) Meeting at the appointed hour we spend a pleasant 15 minutes scoping the Moray Firth just off Lossiemouth, plenty of action was going on just around the mouth of the River Lossie, Sandwich Terns, both adult and juveniles were feeding noisily just offshore, a smaller number of Common and Arctic terns were also in the same area.  Gannets passed by further out to sea, the adults snow white plumage contacting starkly with the dark grey, ominous looking clouds that seemed to be gathering just off shore! Then with no warning a female Sparrowhawk zipped onto the scene, landing briefly on the sea wall, the terns were not happy, and started mobbing said Sparrowhawk, that decided to exit stage left! Moving onto Lossie Estuary the usual suspects were to be found, Herring, Lesser Black Backed, Greater black backed, and Black headed gulls were all loafing around in the water and exposed sand banks.  An Osprey was feeding just at the far side of the dunes, but headed off towards Spey Bay.  Oystercatchers, Redshank and Dunlin were also in the immediate area. Crossing over the bridge Frank called out Bar Tailed Godwit, this superbly marked bird was feeding very successfully in the wet mud just to the left of the footbridge.  Walking out onto the fantastic East Beach I was slightly dismayed to see a surfing group just off shore but they didn't disturb the few birds that were in the area. A small group of Sanderling fed busily along the strand line, all these birds were in their winter dress, but nice to see nonetheless.  Also in the vicinity were Sandwich and Arctic Terns, a nice mixture of adult and juveniles. Heading back to the cars a House Martin and  pair of swifts headed over the dunes heading East, and fittingly pone of the last birds of the day was once again a Feeding Osprey. A great mornings birding with some great people, roll on October for my next outing with the Grantown on Spey U3A!